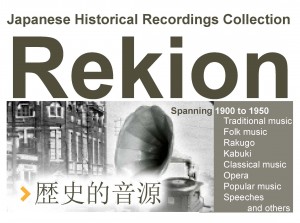 The Ohio State University Library is proud to announce a new resource: 歴史的音源 the Japanese Historical Recordings Collection (Rekion). Compiled by the Recording Industry Association of Japan (RIAJ) in cooperation with the National Diet Library (NDL), this archive consists of approximately 50,000 digitized recordings from 1900-1950. A fraction of these recordings are available to the public through the National Diet Library Online Collections, but the majority of material is only available through libraries who have been granted special access. This year, OSU became the first (and currently the only) location in North America to be granted access to this database:
To accompany this newly established resource, we will begin regularly featuring articles on select recordings from the collection. These articles will explore a variety of genres available through Rekion, such as traditional music, folk music, rakugo, kabuki, classical music, opera, popular music, and speeches. The National Diet Library has also been blogging about Rekion resources on its site.
Although the audio files cannot be downloaded, the availability of these resources opens up new avenues for research into Japanese culture and history, music and other subjects. Enjoy!