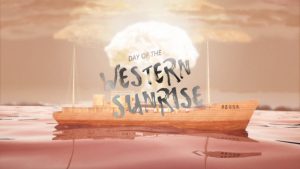 We are thrilled to announce the recent acquisition of the award-winning film, Day of the Western Sunrise, a powerful new resource for researchers and instructors of international studies, global and Japanese history, environmental studies, peace studies, atomic studies, and more! While the film is an excellent resource in its own right, it comes accompanied by an educator toolkit designed specifically for instructors of college and secondary education.
Partnering with OSU's East Asian Studies Center, we are equally excited to hold a viewing of this film, preceded by comments from the film's writer, director, and producer Keith Reimink, at Hagerty Hall, Room 180, on the main campus. This event will take place on September 28, 2019 from 10:00am to 12:30pm. For more details please visit https://easc.osu.edu/events/easc/sept28-film.
Day of the Western Sunrise Documentary Trailer from DALIBORKAfilms.
The film covers the terrible consequences of a US hydrogen bomb test on the Bikini Atoll, which contaminated a Japanese fishing boat called the Lucky Dragon Five (Daigo Fukuryū Maru, 第五福龍丸) on March 1954. The affair also saw the contamination of all 23 fishermen on board, each of whom subsequently suffered Acute Radiation Syndrom (ARS) in the aftermath. After living for months under observation and quarantine, all of the men recovered except for the boat's chief radioman, Aikichi Kuboyama, 40, who died on September 23, 1954.
The incident received media coverage throughout Japan and around the world, as startled onlookers awaited to learn the fate of fishermen who suffered from "atomic bomb disease," as it was then known. Later that year, the legendary film Godzilla (Gojira, ゴジラ) was released by Toho films, inspired in part by the terrible incident. Although he had set out to make a conventional monster film, the screenwriter, Ishirō Honda, explained that after hearing about it, he "took the characteristics of an atomic bomb and applied them to Godzilla" (quoted by Ropeik, 2018).
Keith Reimink, director and producer of the Day of the Western Sunrise, documents the ways in which nuclear technology changed the lives of the young men who were caught in the blast radius. His film captures rare oral interviews with remaining survivors as they near the end of their lives. His film juxtapositions these intimate interviews with handcrafted animations inspired by the famous kamishibai, or 'paper theater,' style of Japanese storytelling.
Film and Educator Toolkit:
Day of the Western Sunrise: Daigo Fukuryū Maru = Nishi kara nobotta taiyō (Day of the Western Sunrise: 第五福竜丸 = 西から昇った太陽) , written and directed by Keith Reimink (Pittsburgh: Daliborka Films LLC, 2018)
Related Upcoming Lecture:
Bill Tsutsui Lecture — "Beyond the Man in the Rubber Suit: Godzilla, Postwar Japan, and the Global Imagination," sponsored by EASC and OSU Libraries. (November 19, 2019)
Select sources at Ohio State on the Lucky Dragon, Bikini Atoll, and the atomic bomb:
Atomic Comics: Cartoonists Confront the Nuclear World by Ferenc Morton Szasz (Reno: University of Nevada Press, 2012)
Daigo Fukuryū Maru (第五福竜丸), written by Yasutarō Yagi (八木保太郎), directed by Kaneto Shindō (新藤兼人) (Tokyo: Asmik Ace Entertainment, 2001)
The Day the Sun Rose in the West: Bikini, The Lucky Dragon, and I by Oishi Matashichi (Honolulu: University of Hawai'i Press, 2011)
Deleuze, Japanese Cinema, and the Atom Bomb: the Spectre of Impossibility by David Deamer (New York: Bloomsbury, 2014)
Human Face of the Pacific, The Marshall Islands: Living with the Bomb, directed by Dennis O'Rourke and Tim Litchfield (Canberra: National Film and Sound Archive of Australia, 1983)
Narrative as Counter-Memory: A Half-Century of Postwar Writing in Germany and Japan by Reiko Tachibana (New York: State University of New York Press, 1998)
"U.S. Military Tests Nuclear Weapons at Bikini Atoll ca. 1946" (WPA Film Library, 1946)
Online Sources:
"How the unlucky Lucky Dragon birthed an era of nuclear fear" by David Ropeik (Chicago: Bulletin of the Atomic Scientists, February 28, 2018)
"Gojira vs. Godzilla: Two nuclear narratives in one monster" by Lovely Umayam (Medium.com) Note: "This piece was written by Sayaka, a student at the Monterey Institute of International Studies, and published on Bombshelltoe on March 3, 2013."