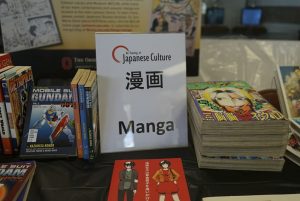 On April 7th, we participated in the 4th Annual Evening of Japanese Culture at Marysville High School! The event attracted upwards of 500 visitors and was an opportunity for the local community to experience Japanese culture and learn about the high school's vibrant Japanese language program.
Recreating the look and feel of a Japanese festival, there were well over a dozen info booths, eating and craft stands, and workshops.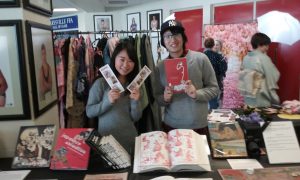 The stands featured different aspects of Japanese culture such as ikebana (Japanese flower arrangement); sadō (Japanese tea ceremony); omocha (children's toys); Japanese food (such as mochi stuffed with red beans, bento boxes, and kushikatsu, or lightly fried foods on a stick); and even a kingyo sukui (goldfish catching) pool. In addition to the stalls, there were live events such as exhibitions of kyūdō (Japanese archery) and taiko (Japanese drums) as well as group classes for participants in shodō (Japanese calligraphy) and taiko!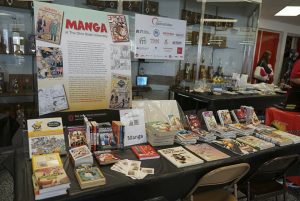 EAS at at OSUL participated in the event with our own stand (made up of two tables) dedicated entirely to Japanese manga. Visitors were encouraged to peruse pieces of OSUL's manga collection, and library staff and students were on hand to talk about the collection and answer any questions.
One of our two tables featured distinctive and rare manga held by OSU, with an emphasis on the history and origins of manga. Facsimiles of art by Hokusai and Kitazawa Rakuten were included in this display. Staff on hand offered background explanations and context to each piece.
Our second table focused on more contemporary manga. Reflecting the diversity of our collection, our display included every thing from manga on giant robots to high school romance, futuristic ninja, and post-apocalyptic wastelands. We were excited to see many students and other visitors have a seat at our tables to peruse the manga at their leisure.