RED, WHITE, BLACK AND BLUE:
Cartoonist Keith Knight addresses America's Racial Illiteracy
Thursday, June 11 at 6pm via ZOOM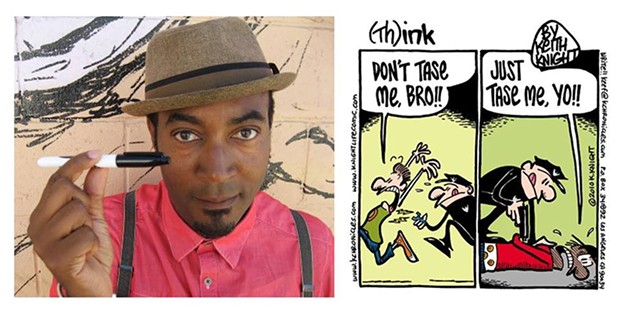 Register here: https://osu.zoom.us/webinar/register/WN_hWr8P6uiSReL7k60TNfnTQ
This virtual event is FREE and open to the public.
Culled from over 25 years of his award-winning work, RED, WHITE, BLACK AND BLUE: Highlighting America's Racial Illiteracy is a new presentation from nationally syndicated cartoonist Keith Knight (the Knight Life, the K Chronicles, (th)ink). Combining comics, storytelling, statistics, and facts, Knight makes the case that America's biggest problem is its inability to have a frank and honest discussion about race. And if it wants to be the country it aspires to, it needs to come to terms with its ugly history.
Keith Knight's presentations are infused with urgency, humor, satire, politics, and race. His work is designed to provoke constructive, civil dialogue amongst people young and old, left and right, of all colors and orientations.
This program is presented by the Billy Ireland Cartoon Library & Museum.