FOR IMMEDIATE RELEASE: April 15, 2016
Jay Lynch Collection Acquired by The Ohio State University Libraries'
Billy Ireland Cartoon Library & Museum 
COLUMBUS­– Legendary underground cartoonist Jay Lynch's personal collection of original art, comics, correspondence, magazines, press files, and other ephemera has been acquired by The Billy Ireland Cartoon Library & Museum (BICLM).
An integral figure in the underground comix movement, Lynch is the creator and editor of Bijou Funnies (home to his creations Nard n' Pat) as well as a frequent guest  writer for Mad magazine and the Topps Company, for whom he contributed to the iconic Bazooka Joe, Garbage Pail Kids, and Wacky Packages.  He is also the creator of children's books for Françoise Mouly's TOON Books series..
"As the home to the largest collection of comic art in the world, I knew my collection would be given the greatest care and respect at the BICLM," Lynch said. "My interest in comix goes far beyond just my work in creating them and this collection is representative of my lifelong interest in satire, as it applies to comics as well as other aspects of the popular culture spectrum—from satirical publicity campaigns, letters from key figures in satire and the underground movement, and much more."
The collection totals to nearly 250 cubic feet of manuscript materials, original art, underground comix, merchandise from Lynch's work at Topps, and letters from R. Crumb, Art Spiegelman, Lenny Bruce, Woody Allen, and other icons of the popular culture dating back to 1956. Additionally, the collection is home to an extensive number of fanzines and college humor magazines, often offering the earliest look at work from Harry Shearer, Art Spiegelman, Gilbert Shelton, and more. Also in the collection are some famous (and infamous) publicity campaigns, including groundbreaking satirical work such as Oingo Boingo's anti-clown movement,  Ed Sachs's Irreverent Newsletter, Alan Abel and Buck Henry's Society for Indecency to Naked Animals press releases, and early press kits from Jay Ward Productions.
"We're honored that Jay is entrusting his extraordinary collection to us. It would be impossible to overestimate the value of these materials for research into the underground comix movement" notes BICLM Curator and Associate Professor Jenny E. Robb. "The collection not only documents Jay's career, but also provides rich insights into the last half century of popular culture."
Associate Curator Caitlin McGurk adds, "One of the most exciting facets of the Lynch Collection is the astounding amount of juvenilia, saved from the time of creation, from artists like Art Spiegelman, Skip Williamson, R. Crumb, and Jay himself – making this collection a sort of ground-zero for what would become the underground comix movement."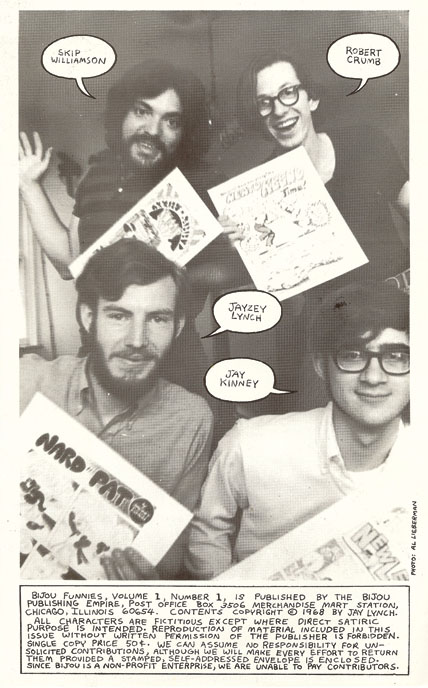 About the Billy Ireland Cartoon Library & Museum:  The BICLM is one of The Ohio State University Libraries' special collections. Its primary mission is to develop a comprehensive research collection of materials documenting American printed cartoon art (editorial cartoons, comic strips, comic books, graphic novels, sports cartoons, and magazine cartoons) and to provide access to these collections.  The BICLM recently moved into its newly-renovated 30,000 sq. ft. facility that includes a museum with three exhibition galleries, a reading room for researchers and a state-of-the-art collections storage space.  The library reading room is open Monday-Friday 9 a.m. to 5 p.m. and Sunday 1 p.m. to 5 p.m. The Museum is open Tuesday-Sunday from 1 – 5 p.m.  See http://cartoons.osu.edu/ for further information.
The Ohio State University Libraries
Billy Ireland Cartoon Library & Museum
Contact: Caitlin McGurk
Sullivant Hall
1813 N. High St
Columbus, OH 43210
614-292-0538 Phone
614-292-9101 Fax