Join us on Thursday, February 7th at 6:30pm for a program and reception celebrating Barbara Shermund, the subject of our current exhibit, Tell Me A Story Where The Bad Girl Wins: The Life and Art of Barbara Shermund*, on display through March 31st at The Billy Ireland Cartoon Library & Museum.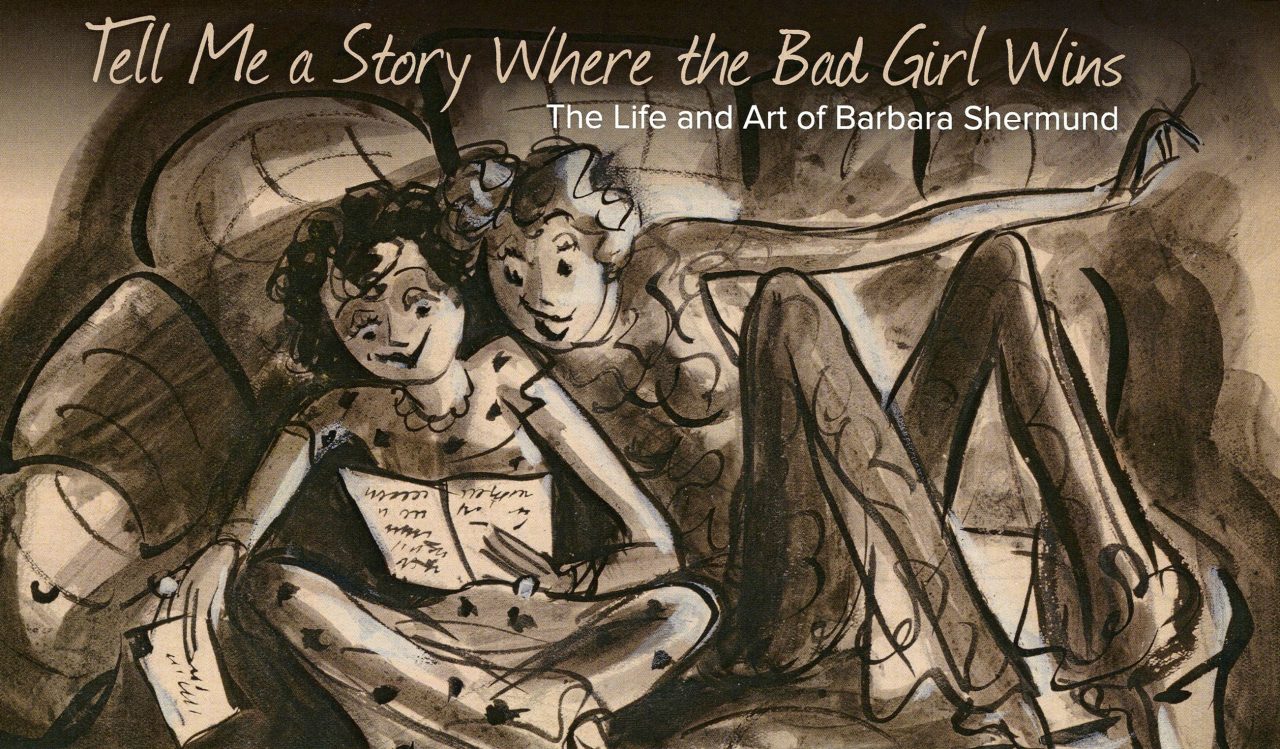 Celebrating the Life and Art of Barbara Shermund: An Evening with New Yorker Cartoonist Liza Donnelly
Thursday, February 7th
6:30pm-8:30pm
FREE
The Ohio State University Billy Ireland Cartoon Library & Museum
Sullivant Hall, Jean and Charles Schulz Lecture Hall
1813 N. High St, Columbus OH 43202
6:30pm: in the Jean and Charles Schulz Lecture Hall: Presentation by New Yorker cartoonist and resident cartoonist of CBS News, Liza Donnelly,* on cartoonists who are women who have worked at The New Yorker. Introduction by Dr. Judith Yaross Lee, author of Defining New Yorker Humor. Opening remarks by Amanda Gormley, art collector and niece of Barbara Shermund.
7:30pm: Reception with cash bar, exhibit viewing, and book signing for Liza Donnelly's Funny Ladies: The New Yorker's Greatest Women Cartoonists and Their Cartoons
Please note: our galleries will remain open from 1:00pm to 8:30pm on February 7th for exhibit viewing before and after the program.
Facebook event: https://www.facebook.com/events/2213846725600170/

*More info about Liza Donnelly (from lizadonnelly.com): Donnelly is a cartoonist and writer with The New Yorker Magazine, and resident cartoonist at CBS News. She also writes for the New York Times, Forbes.com, and Medium. She has been profiled globally in numerous publications and her work has been exhibited around the world. Donnelly received an honorary doctorate from University of Connecticut, where she delivered the commencement address to the Graduate School ceremony.
Donnelly is a Cultural Envoy for the US State Department, traveling around the world speaking about freedom of speech, cartoons and women's rights. As a public speaker, Donnelly has also spoken at TED (Technology Entertainment and Design), the United Nations, and The New Yorker Festival, the Thurber House, and the American Association of Editorial Cartoonists annual convention, Vassar College, Bard College, Brown University, The Omega Institute, The Society of Illustrators, The Museum of Cartoon and Comic Art, The Norman Rockwell Museum, among other places. Donnelly was profiled on CBS Sunday Morning and NBC and has been interviewed on radio and in numerous magazines.
Donnelly is the author/editor of sixteen books and was a finalist for the Thurber Prize for American Humor. She wrote the critically acclaimed history, Funny Ladies: The New Yorker's Greatest Women Cartoonists and Their Cartoons.
Donnelly wrote and illustrated seven children's books for Scholastic, Inc. and two children's books with Holiday House.
She is a charter member of an international project, Cartooning for Peace, helping to promote understanding around the world through humor; and is one of the founding members of USA FECO, the US chapter of the international cartoonists' organization FECO. She has curated several exhibits of international cartoonists, here and abroad. Donnelly taught at Vassar College and the School of Visual Arts and is a member of PEN, the American Association of Editorial Cartoonists and the National Cartoonist Society. She is the recipient of an honorary degree from the University of Connecticut, a Reuben Award from the NCS, the Salon St. Just, France International Prize, the Woman of Distinction Prize from the American Association of University Women; and was a member the jury of the World Press Cartoon Prize in Lisbon, the Cartooning for Peace Prize in Geneva in 2012 and 2014, and the Aydin Dogan International Cartoon Competition in Istanbul, Turkey. Her cartoons are in the Library Of Congress Prints and Drawings Collection, the Society Of Illustrators Collection and private collections.
*More info about Tell Me A Story Where The Bad Girl Wins: The Life and Art of Barbara Shermund: Barbara Shermund is an unheralded early master of gag cartooning. Her sharp wit and loose style boldly tapped the zeitgeist of first-wave feminism with vivid characters that were alive and astute. Shermund's women spoke their minds about sex, marriage, and society; smoked cigarettes and drank; and poked fun at everything in an era when it was not common to see young women doing so.
In Liza Donnelly's book Funny Ladies, she writes, "What comes through in many of the cartoons is that Shermund's women did not need men."
Born in San Francisco in 1899, Shermund briefly attended the California School of Fine Arts before relocating to New York City. As one of the first women cartoonists to work for The New Yorker after its launch in 1925, she created nine covers and hundreds of cartoons for the magazine. Shermund later became a mainstay at Esquire, contributed to Life and Collier's, had her syndicated newspaper cartoon Shermund's Sallies published by King Features, and illustrated a variety of books and advertisements. In 1950, Shermund was among the first three women to be accepted as a member of the male-dominated National Cartoonist Society. She lived a private life and traveled extensively. Without ever having a formal studio space, she preferred drawing at the kitchen table, and should an idea strike her in the middle of the night, she slept with a notepad and pencil under her pillow.
Through photographs, letters, original art, and books never before displayed, this exhibition uncovers and celebrates the life and career of this outstanding cartoonist.
Curated by Caitlin McGurk, Assistant Professor & Associate Curator