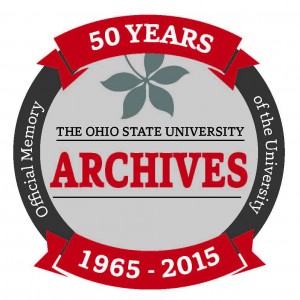 Everyone always complains about getting old, but here at the Archives, we found that turning 50, at least, can be one heck of a good time.
We had more than 300 people help us celebrate this important milestone during our Anniversary Open House event on May 14. Our guests were treated to a wide array of artifacts, a viewing of historical campus film footage, and fine food and drink.
If you attended the event, you may have noticed guests who took the opportunity to sit on OSU Football Coach Woody Hayes' Couch (as seen in the upper-right-hand corner of this blog) and share their favorite memories of attending or working at OSU. Check it out!

To see how really spectacular the event was, please see the Archives' Flickr Gallery.
You can also revisit the 50 artifacts that were on display during the event in a new interactive story map, designed by Josh Sadvari of the Research Commons.
We truly appreciate all of our supporters who attended our Anniversary event.  If you were not able to make it, we hope this post has given you an opportunity to see what was missed.  And, if you are interested in donating to the Archives, you can do so through our Paul E. and Sandy Watkins Endowment for University Archives.
See why your support is so important to our mission in a message written by University Archivist Tamar Chute.
And finally, if you just want to take a look at cool old photos of OSU, check out our Flickr page!