Homecoming queens have a long tradition here at The Ohio State University.  The first homecoming queen was elected in 1921, over 90 years ago.  No election was as memorable as that of 1926, when Maudine Ormsby was declared the official homecoming queen.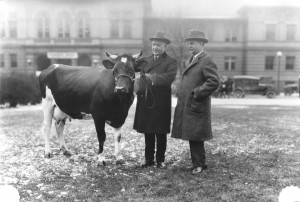 Nothing seems strange about Maudine Ormsby winning that year, until you learn that she was a cow.  But to say she was just a cow would be unfair, Maudine was an award winning Holstein.  In her heyday, she was able to produce 743.5 pounds of milk and 28.7 pounds of butter fat during a 7 day test, which won her a world record.
Because of her unique capability, the agricultural school students were quite fond of her.  They decided they should even nominate her for homecoming queen.  To Maudine's dismay she was officially disqualified because she was not in the student directory, but more likely because she was a cow.  The Ag students then grudgingly nominated co-ed Margerey Rutledge.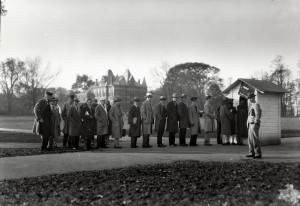 Election Day came and with it a boatload of tampering and corruption.  Officials printed 3,000 ballots, but when counting them they found over 12,000.  Not only were people voting multiple times, but ballot boxes were stolen and some students were even voting for dead alumni.  Because of the wide-spread voting corruption, the Election Committee was not able to count the ballots accurately.
Cue Maudine, who was busy winning her own awards.  The Committee decided that since no human winner could be determined that Maudine would step in.  Of course Maudine did receive some valid votes, but not nearly enough to win.
Sadly, Maudine's handlers did not allow her to attend any of the homecoming events for fear that the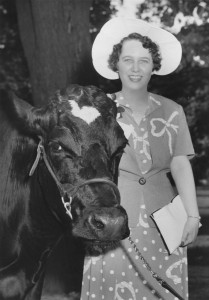 excitement would curdle her milk.  She was a world record milk producer first and a queen second.
Although Maudine achieved great fame and success, her life was cut short.  At the age of 7, eight years sooner than most cows, Maudine had to be put down after contracting brucellosis, a highly contagious disease.
To learn more about the extraordinary life of Maudine, check out these Lantern Articles written about her:
"Maudine Ormsby" to Reign as Queen for Homecoming
Here Lies One More Shattered Record!
"Maudine" Barred From Coronation as Queen Friday
Maudine, Campus Queen of 1926, Set World Record
The Lantern is completely digitized and text searchable.  You can always go to http://go.osu.edu/lanternarchives to look for articles.