Editor's note: Last fall, the University Archives received a diary that clearly had been written by a former OSU student but had no identification of who he was. So, we set to work trying to determine the diary writer's actual identity. And by "we," we mean our student assistant, Belle Teesdale, who went above and beyond to piece together the diary's many clues to determine who the original owner was. Belle didn't stop there, though. She found out quite a lot about OSU Mystery Man, actually. But we'll let her tell you herself:
The task of discovering the identity of someone's diary is not an easy one—especially when it's from the 1930s and the handwriting is in messy cursive. I began reading the diary on the very first page, from top to bottom like a book and continued doing so for the next few pages. However, something seemed off. The handwriting and pen ink changed every few sentences. I soon realized that this was a 5-year diary—meaning that every page focused on one specific day, but it was divided into 5 sections for each year. This diary began in 1931 and ended in 1935. Instead of reading each page in its entirety, I had to read only a section to figure out the chronological order.
One of the first things I noticed was that whoever this man was, he was not excelling academically. He would continually jot down how he was getting C's and D's in his courses. I also realized that this man started attending OSU only in the fall of 1932, even though the diary started in 1931. Continuing to investigate, I learned that the Mystery Man had gone to Dartmouth College for his freshman year. This made sense since he noted in his diary how strange it was to see women on campus and in classes at OSU, considering Dartmouth was an all-male college at this time.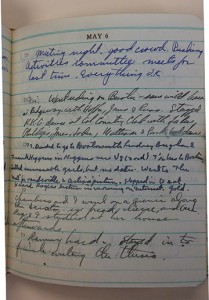 I began jotting down anything that could help me find out who this diary belonged to. I knew (or thought) he was a member of the Phi Kappa Psi fraternity, since he had been a Phi Psi at Dartmouth and continued to attend their events and dances at OSU. I knew he was taking business-related classes—Economics, Finance, Salesmanship, Money and Banking. I knew his birthday was February 22. I knew he dated a lot of girls (Peggy, Jean, and Flora, to name a few). I knew he liked playing tennis and swimming during the summer. I knew he had the funds to travel often (Chicago, Canada, New York City) and eventually buy a car. I knew he moved to Dunedin Road in Clintonville. And I knew that by 1935, he was in graduate school here.
However, not knowing exactly what Class he was a member of or when he graduated kept the mystery going. I repeatedly tried looking through the Makio yearbooks at the Phi Psi group photos and looking through the names of the members each year. I crossed these names with their addresses in the student directories from 1932-35. No luck. I was beginning to think I'd never find out who this guy was.
It was one specific clue that lead to the identity of the OSU Mystery Man. On June 10th 1935, OSU Mystery Man wrote in his diary, "Commencement started before six. Only one to get Bus. Admin. Names mixed up, so provided only good laugh of the evening."
Since the University Archives has copies of all the Commencement programs, I went to the June 1935 edition, turned to the page listing master's degree recipients in Business Administration, and there he was—one name, only one in his category, just like he said. William Chenoweth Brown. The commencement program said that he had graduated from Dartmouth with a degree in Economics in 1933. He had mentioned in his diary a few times that he had contacted Dartmouth and was (somehow) able to transfer his credits and still graduate from there.
I immediately looked him up in the Makios to see what my mystery man looked like, but I was unable to find him there, which is not unusual for a graduate student.
After the Makios, I went to The Lantern online digital archives and searched his name. One article about him said that while he was in San Francisco for a summer job in 1934, he and another Phi Psi members witnessed a strike by dock workers that included huge mobs, and lots of fighting.
After contacting the Dartmouth Archives, more information poured in about what happened to the mystery man after his diary ended on December 31, 1935.
The next few years of his life after graduating from OSU are unclear, but Brown, who had been born in 1912, went to some kind of finance school and enlisted in the U.S. Army on July 10, 1942. Brown was stationed in Africa briefly, but most of his service was spent in Italy where he rose to be a Captain. He was also awarded with a Bronze Star in May 1945 for his meritorious service in combat.
By 1946, he was married to Edna Ruth Randall (who went by Pat). By 1950, Pat and William had a son, Randall. The family stayed in the Columbus area throughout their lives, and Randall graduated from Upper Arlington High School, going on to receive a bachelor's degree from Ohio Wesleyan (his mother's alma mater) and a Master's in Education from Ohio State. William passed away at the early age of 66 in 1978.Unfortunately, Pat passed away in 1992, and Randall passed away in 2011.