It is an honor for me to serve as University Archivist at The Ohio State University, particularly this year as we celebrate the University Archives' 50th anniversary. Students often ask me, "What does the Archives do?" My short, elevator speech is "The University Archives serves as the official memory of The Ohio State University." How we do that is the complicated part.
First, we collect material. In 2014 the Archives accepted more than 240 items or collections from units on campus and generous donors. These ranged from a small diary written by an unknown student in 1931 to more than 50 boxes from the Advanced Computing Center for the Arts and Design. To make highly used items widely available, we have worked with partners throughout the Libraries and University to digitize material, such as the Board of Trustees meeting minutes, Course Bulletins, and the Makio.
Adding material online has increased the number of donations we receive and the number of questions we answer. In 2014, the University Archives answered nearly 3,000 reference questions from individuals ages 8 to 80! We've helped people with National History Day projects, term papers, books, and their search to find information about their relatives. In each case, the Archives staff searched our holdings to help in any way possible.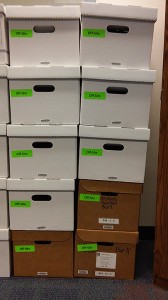 The year 2015 will transform the Archives in many ways. Due to a lack of space in our stack area, nearly 14,000 boxes will be transferred to an off-site storage facility in February. These boxes will remain available to patrons but will require a little more advance notice to review (24 hours). At the same time, all of the Libraries' Special Collections are migrating to a new online archives management tool, and the Archives will be working with a vendor to digitize our collection inventories. This means our inventories will be available to researchers any time and any place.
The year 2015 also will be the time to celebrate our past and look to our future. Be sure to keep reading our blog posts for updates and watch for a special feature about the University Archives in the March/April issue of the alumni magazine.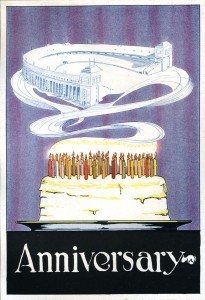 In addition, I hope you can join us for our big anniversary event on May 14 from 4-7 p.m. Come toast the University Archives, take a tour of our facility, participate in a hands-on experience with interesting and unique artifacts, and watch rarely seen historical film footage.
All of us at the Archives are grateful for the support of so many people during the first 50 years of the University Archives. We look forward to celebrating our golden anniversary with you!
(Image at left is a sketch from the University's 50th Anniversary Celebration in 1920.)