We are so happy to have a post today by our guest-writer, Billy Ireland Cartoon Library & Museum student employee Maggie Lynch! Maggie was tasked with organizing and inventorying a truly unique collection that came to us from Art Spiegelman and Françoise Mouly, and was kind enough to write about the collection for our blog. Enjoy!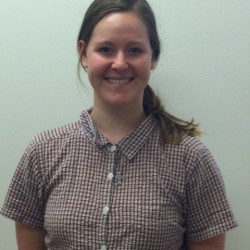 Maggie Lynch
BIO: Maggie is a third year French major at The Ohio State University. She started her career in French four years ago and has had experiences abroad in Montréal and throughout France, including an internship with WorldTeam in Paris this past summer of 2014. She plans on pursuing translation, English education to french speakers and more possible work with WorldTeam in Paris after graduation.
Thanks to a generous donation from Art Spiegelman and Françoise Mouly, we now have 509 magazines in French ranging from 1970-2003, including Charlie mensuel, Hara-Kiri, A Suivre, Metal Hurlant, L'Echo des Savanes, and more. Through this donation, our library collection has expanded to facilitate more areas of research that include French language and culture, the French Women's Liberation Movement, gender studies, the history of France during the riots of 1968, sociology, international studies and more. Even for non-French speakers this could be a good collection to search for inspiration in art or architecture. The topics that interested me the most were unique aspects shown of French culture, positive and negative
opinions of American media in the eyes of the French, a huge range of beautiful art, and some satire about the feminist movement of the late 1960's. I als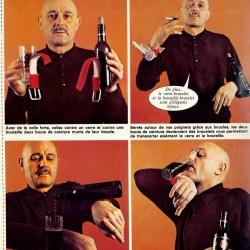 o did some research on how Charlie mensuel became Charlie Hebdo.
To start, French culture is unique. For example for those who don't know, it is nearly impossible to find a place to pee in big cities, especially in Paris. Fluide Glacial gives its readers a useful guide, "Où pisser à Paris et quel prix?" (Where to pee in Paris and at what cost?). I also loved this fake ad in Hara-Kiri where it coaxed readers to buy a wine bottle and a glass on two separate watches. That way, you could keep holding your cigarette, and pour wine, all at once. Americans respond to the same problem, "how do I keep doing things while drinking?" in a similar, yet different way. Most Americans know the idea of the classic beer hat: two beers attached on each side of a trucker hat with straws leading to the mouth. It's the American way to solve that same dilemma. Maybe we're more similar than we think. As Americans reading our library's new French magazines, there are endless similar cultural connections to be made.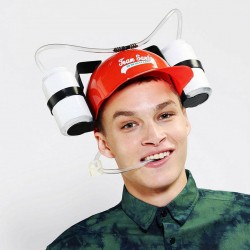 As a French major in Columbus, people always ask me, "do the French hate Americans?" I can't speak for every French person, but I'll present some positive and negative perceptions of the French through their opinions of American media I found in our new collection. First, in Charlie mensuel, there are a good amount of American comics translated into French primarily with the intent of sharing them with the French people, probably because they're valuable and funny. In fact, the magazine title Charlie mensuel came from the character Charlie Brown from Peanuts. In addition, there are reviews of American music and films in Jazzman, Jade, and Fluide Glacial probably because they were admired by the French. However, I ran across some fairly negative reviews, including a review of Octopussy with the first sentence stating that the film is "naze" (stupid), and another review of Gumby and Pokey stating the creator was "un idiot américan dont j'ai oublié le nom" (a stupid American whose name I forget).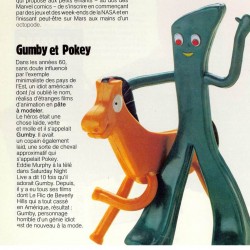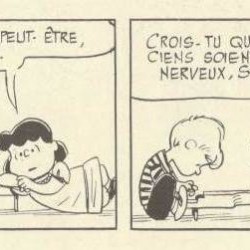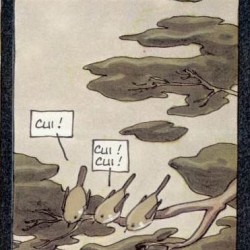 Regardless, I think the influence of American comics on French comics is inevitable. While flipping through our magazines, I noticed the action sounds like splash, plop, crash, zonk, or slam which are English onomatopoeias in French comics. Thepresence of English-language sounds communicate that the American influence remains. On a different note, French onomatopoeias can be interesting to English speakers, like the sound of birds, "cui" (k-WEE), when we usually say "tweet". There are many more gems like these in our new collection.
To start about art, there is a great range of comic art styles in this collection. The mediums range from watercolor, to printmaking, pencil, photo with captions pasted in, and more.There are many different styles from very simple pencil drawings with no shading, to very busy pieces with many conflicting lines and colors. There were also many different color schemes, ranging from pastel and soft colors, to loud and bright colors. Overall, it it was fascinating to see the many different styles. Also, there was a very unique magazine that focused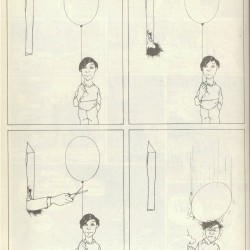 on comic architecture (A Suivre Hors Serie 1985). I suggest looking through them for any visual artist.
In view of the recent shootings at the Charlie Hebdo offices in Paris, the world has been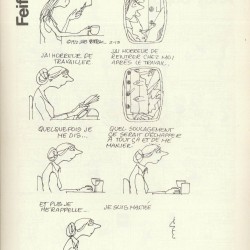 curious, "what in the magazines provoked such a response?" Our magazines contain some of Charlie Hebdo's history. Charlie mensuel and Hara-Kiri are like the two parents of Charlie Hebdo. These magazines both began in 1969 with a mutual vision, bandes déssinées with bête et méchant (stupid and nasty) humor, partly inspired by Mad Magazine but a more crude version. Charlie Hebdo began with the end of Hara-Kiri in November of 1970. Hara-Kiri was banned because of a snide headline about the death of Charles de Gaulle. Promptly a week later, the vision of Hara-Kiri and the name of Charlie Mensuel gave birth to Charlie Hebdo. So, Charlie Hebdo is like the son of Hara-Kiri that carried on the family business of bête et méchant humor. Today, these same themes of satirical humor and comments on current events remain in Charlie Hebdo DNA. For more satirical publications from a different era, the BICLM also has L'Assiette au Beurre (Issues from 1903-1912).
Hara-Kiri was also banned in 1966 and gained support from impactful philosophers Jean-Paul Sartre and Simone de Beauvoir. De Beauvoir's well-known publication The Second Sex was in line with the demands of the riots of 1968 in Paris. The people of this social movement were the direct audience of Hara-Kiri, young people in revolt. But also in the spirit of Hara-Kiri, the writers had to make fun of it. The cartoon on the side is poking fun of the Women's Liberation Movement through a father's relationship with his son.
Obviously by scooting further down the couch, the father does not actually support the feminist movement, unable to express his true sentiments in his first encounter with his son's girlfriend. This comic has a mild but direct message that not everyone, apparently not older generations, supported the Women's Liberation Movement.
These few themes are the ones I saw, but there could be many more! Come stop by the Cartoon Library and see for yourself!