Before the wholesome, morally charged, lovable family antics of the Berenstain Bears, there was Hans Horina's The Bear Boys.
This dreadful duo was, oddly enough, brought to the funny pages of the Chicago Tribune in 1906 in order to boost the character and artistic worth of the comics section, and of course to increase sales as well. Although not nearly as venerated as his contemporary Lyonel Feininger, Hans Horina was one of the six "German Invasion" cartoonists recruited for the Chicago Tribune in 1906, after representative James Keeley went abroad to bring back cartoon talent that would sophisticate the Tribune's comics section over other papers. Among Feininger and Horina were Karl Pomerhanz, Lothar Meggendorfer, Karl Staudinger, and Victor Schramm.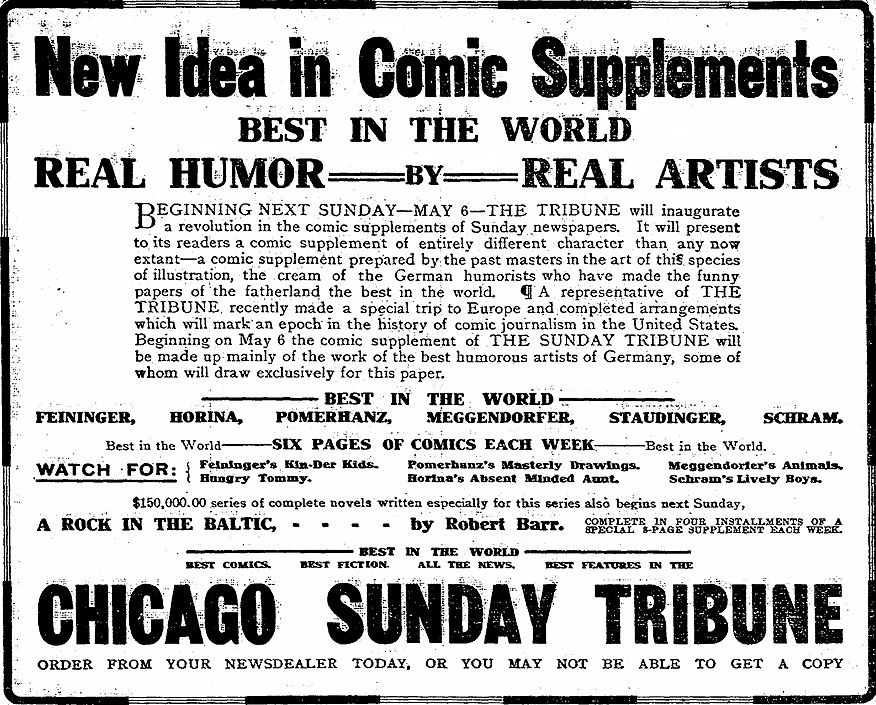 Unfortunately, within a few short years the Tribune found that sales had not increased as they'd imagined, and so the cartoonists were let go- leaving us with only a narrow glimpse of at their cartooning potential.
During Hans' stint at the Chicago Tribune, he was possibly the most prolific of the 6 new Germans, contributing between 2 and 7 different features over the few short years he worked, that would often run side by side. These included Hungry Tommy, The Absent Minded Aunt, The Rhinoceros Boys, The Elephant Family and the Lion Family, Mr. Foxy The Artist, various Jungle Comics and The Bear Boys (featured today). As if those weren't enough, Horina contributed a number of one-shot comics as well.
No matter the title or anthropomorphized subject, Horina's comics catered much more to the American audience than the works of his counterparts like Feininger, who took a more fine arts approach stylistically and built fantasy stories. Horina's comics went straight for America's beloved slap-stick gag, and his humor was surprisingly dark. We find The Bear Boys to be particularly terrifying, as each episode revolves around the two cubs torturing their father, often resulting in some kind of domestic-bear-dispute.
Horina had an excellent knack for capturing facial expressions no matter the animal he depicted, and clearly had an advanced sense of fashion as one can tell by Papa bear's fabulously 70's lawn-mowing ensemble seen below.
Horina enjoyed enough financial success during his time cartooning for the Tribune to bring his family over from Germany, and after he and the others were let go from the paper he found work as an illustrator for postcards. After changing his name from "Hans" to "John" in the naturalization process, he moved his family down to Louisville, KY where he became the editor of the Louisville Anzeiger, a German-language newspaper. He passed away in 1918 at the young age of 53, after publishing what may have been his final contribution to the world of comics, War Cartoons: Pictures About the War for Sympathizers with Germany and Austria-Hungary.
Although Horina was considered one of the top humorists in Germany and did not begin cartooning in America until he was in his 40s, little is known about his earlier career overseas.  As always, dear readers, if you have more information on Horina's life we encourage you to contribute in our comments section!
Considering how prolific Hans Horina was over his short career of cartooning (no more than 3 years), you can be sure that we will feature more of his other strips in the future thanks to The San Francisco Academy of Comic Art Collection.