Beat the late summer heat with a visit to our 40th anniversary exhibits! One attraction in our 40 Years/40 Stories exhibit is this decorated swimsuit, a relic from 1950.
Our good friend and member of our National Advisory Council Tom Gammill donated five of these suits from a National Cartoonists Society party in NYC, where members were invited to "test" a new waterproof pen by drawing on bathing suits worn by models. They decorated the suits with their famous cartoon characters, random doodles, and (for some) their own phone numbers. The cartoonists included Ernie Bushmiller (Nancy), Milton Caniff (Terry and the Pirates and Steve Canyon) Alfred Andriola (Kerry Drake), Otto Soglow (The Little King), Ham Fisher (Joe Palooka), and others. Bernard Hoffman of LIFE magazine photographed the party and the "Ball Point Bathing Suits."
The event was a product of its time, when all National Cartoonist Society members (and most professional cartoonists) were men, and this type of sexism was not unusual. LIFE magazine decided that the images were inappropriate for a family audience, and ultimately chose not to publish them.
In this photo, also from Gammill's collection, Nancy comic strip creator Ernie Bushmiller decorates one of the suits.
"Very little was known about this "grinning Ernie" photo until Heritage Auctions put six bathing suits up for sale, all with drawings by famous cartoonists," says Gammill. The photos received attention when the photographer, Bernard Hoffman, sold one to Gala Magazine.  "From the photos it looks like twelve cartoonists were part of the event! So that means six bathing suits are still on the loose," says Gammill. "Look for them so they can join the others at the museum."   Unbeknownst to any of us, we were actually bidding against Tom on the auction for these suits.  He outbid us, but months later, our curator Jenny Robb visited his home and saw one of them on display (the one with the Ernie Bushmiller drawing).  When Tom found out we had tried to acquire them, he generously offered to donate five of the suits and promised the sixth one would follow someday.
Gammill is a producer and comedy writer who has worked on many popular TV shows, including The Simpsons and Seinfeld.  He is also the creator of the comic strip, The Doozies.  He has made many generous donations to our collections, including over 80 pieces of original art by 62 artists including Irwin Hasen, Edwina Dumm, Mort Walker, Dale Messick, Mell Lazarus, and many more. Another recent donation was the production script of an episode of The Simpsons titled "Grampy Can Ya Hear Me," which references the Ohio State University Marching Band: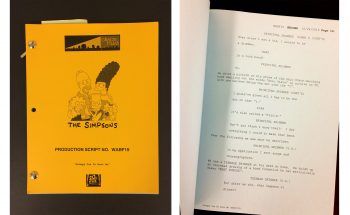 Gammill's collection also includes historic photos of famous cartoonists. Some of his favorites include the many faces of Ernie Bushmiller. In this photo, Bushmiller draws on stage with Rube Goldberg for an audience of schoolchildren in their Sunday best: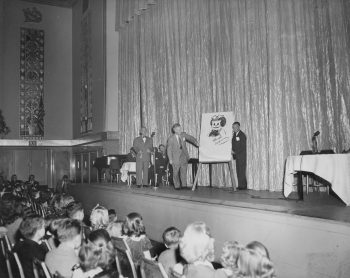 And finally, Gammill tells us what's going on in this candid shot. "According to Bushmiller pal James Carlsson, this photo below was taken at Ernie's mother-in-law's house. Check out that Sluggo scowl!"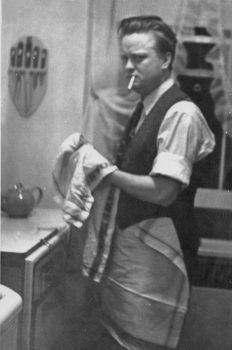 "I'm sure that memory was the inspiration for this panel…"
You can see a Ball Point bathing suit and many more treasures in TALES FROM THE VAULT, two current exhibits that celebrate our 40th anniversary, until October 22.