Did you know that OSU once had its own all-female precision marching corps? Micki Lee, a 1959 graduate, recently contacted the Archives about her involvement in the Buckeye Collegiennes, a dance-drill team that performed both cheerleader-style kick lines as well as military drill sequences.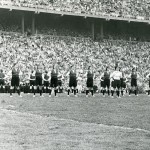 According to Lee (whose last name was Umbaugh when she was an undergraduate), Mania Moore, a Dayton native, started the group in spring 1956; the next year, Umbaugh was elected the group's President and Commander. Under Umbaugh's leadership, the drill team became proficient not only in marching, but in dancing routines. The group, which consisted of 50 performers and 20 alternates, worked closely with the campus' Air Force ROTC, as well as Jack Evans, the director of the Ohio State University Marching Band, in choreographing the routines. Its adviser was Jane McCormick, Assistant Dean of Women.
Lee says in her recounting: "Discipline, correct breathing, posture, and conditioning of each member was VERY important in the training program! The girls were graded on their performances, etc., and received demerits for lack of neatness, tardiness, being unprepared, etc. They also had to have musical ability and be able to know which yard line to be on for each measure of music, in order to execute all the formations properly … and make them look perfect when seen from the top row of seats in the stadium."
At the Homecoming game in October 1957, they performed during half time, in front of nearly 83,000 fans. After that game, according to Lee, they were asked to lead the annual May Day Parade, perform at St. Johns Arena for basketball games, and entertain during other football game half-times, such as Dad's Day. They were even asked to perform at the next Rose Bowl, and at the Thanksgiving Day Parade in New York for 1958; however, a lack of funds kept them from going. During a performance, the group would perform three to four routines, to such music as "March of the Toys" "St. Louis Blues," and "There is Nothin' Like a Dame." Lee says they soon became known for concluding their performance "with their famous precision kick-line."
According to Archives resources, the group remained active until the early 1960s. They disappear from the records, until fall 1971 when they show up again – with the addition of knee-high white boots and kick lines. The first performance of the new team took place in 1972. They performed at Homecoming parades, occasionally at other OSU sporting events, and – at least that year – during the season opening of the Kings Island Amusement Park. For several years in the 1970s, the team attempted to perform with the OSU Marching Band during football half-time shows, but the band always declined. After 1975, the record trail stops, so it's unclear how much longer the team survived.
We'd like to thank Mrs. Lee very much for her contribution to our history of the Collegiennes. Without her help, we would not have nearly as much information about the team, and we appreciate her taking the time to send us her recollections.