The OSU Libraries East European and Slavic Studies department recently received copies of the most recent six issues of Revue de Transylvanie / Transylvanian Review, volumes 24.3-4 (2015) and  25 (2016), from the Biblioteca Centrală Universitară "Lucian Blaga" Cluj-Napoca. The journal is published by the Center for Transylvanian Studies of the Romanian Academy, and is indexed in the Web of Science Database.
The journal includes book reviews, essays, and articles on healthcare, history, literature linguistics, minorities, music (especially Jazz), religion, and other topics in the humanities and the social sciences ranging from medieval times to contemporary life. There are several articles that may be of interest specifically to ScriptoriaSlavica readers: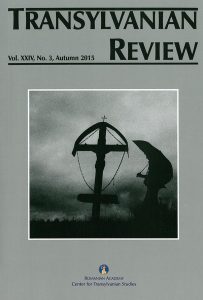 Simona Gabriela Bungău and Viorel-Cristian Popa, "Between Religion and Science: Some Aspects Concerning Illness and Healing in Antiquity," Transylvanian Review 24.3 (Autumn 2015): 3-18.
Florian Dumitru Soporan and Liana Lăpădatu, "La révolution hussite et l'affirmation du voïvodat de Transylvanie dans le contexte de la croisade tardive: Tangences et spécificités," Transylvanian Review 24.3 (Autumn 2015): 98-112.
Keywords: Hussite revolution, Voivodship of Transylvania, Late Crusade
Mark Whelan and Alexandru Simon, "The Moldavian Lady and the Elder Lords of the East," Transylvanian Review 24.3 (Autumn 2015): 113-129.
Abstract:
"The article seeks to bring a new perspective to the political and diplomatic history east of the Carpathians in the early 1430s by drawing upon a recently discovered document in the Geheimes Staatsarchiv, Preußscher Kulturbesitz (Berlin), probably dating from spring 1431, in which Duke Svidrigiello of Lithuania states his readiness to marry the daughter-hitherto unknown-of Alexander I cel Bun (the Just) of Moldavia. This document provides new information regarding the relationship between Sigismund of Luxemburg and the Duchy of Lithuania in the aftermath of Duke Witold's death in autumn of 1430, and sheds new light on the various agendas at play between the duchies of Moldavia and Lithuania and the kingdoms of Hungary and Poland in the face of the Turkish threat commanded by the astute Sultan Murad II" (129).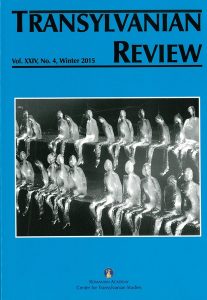 Robert-Marius Mihalache, "Avignonese Tithe Collectors and Transylvania: Up Until the Middle of the 14th Century," Transylvanian Review 24.4 (Winter 2015): 55-68.
Keywords: Avignon papacy, tithe collectors, Apostolic Camera
Adinel C. Dincă, "Preserving Charters in Late Medieval Sibiu," Transylvanian Review 24.4 (Winter 2015):  69-76.
Keywords: Transylvania, Latin Middle Ages, Sibiu
Vol. 25.1 (Spring 2016) devotes several articles to the history and establishment of the Romanian Academy and the Romanian Literary (Academic Society).
Nicolet Popa Blanariu, "Unde Malum? Dualist(oid) and Gnostic Imaginary, from Folk Mythology to Romanian Literature," Transylvanian Review 25.2 (Summer 2016): 3-20.
Keywords: myth, Dualism, Gnoticism, Bogomilism 
For my colleague, Jolie Braun, Curator of American Literature, Rare Books and Manuscripts Library at Ohio State, let me include an article that may be of interest to her:
Saša Simović, "Edgar Allan Poe: Reflections on Poetry," Transylvanian Review 25.2 (Summer 2016): 20-36.
Vol. 25.3 (Autumn 2016) includes several articles on philosophy as well as articles on Early Banknotes of the Habsburg Empire, a Transylvanian connection to Mustafa Kemal Ataturk (arms dealing), male sexuality in Leopold von Andrian's Der Garten der Erkenntnis / Garden of Knowledge, etc.
Gheorghe Tuţu, "Γνώμη ε συγ-γνώμη: Le radici platoniche ed aristoteliche dell'antropologia di Massimo il Confessore / Γνώμη ε συγ-γνώμη: Platonic and Aristotelian Roots of the Anthropology of Maximus the Confessor," Transylvanian Review 25.3 (Autumn 2016): 3-22.
Keywords: Maximus the Confessor, Plato, Aristotle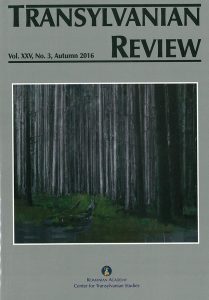 Robert R.A. Arnăutu, "Life, Mind, and Soul in the Philosophia Naturalis of János Apáczai Csere," Transylvanian Review 25.3 (Autumn 2016): 23-42.
Keywords: Descartes, Regius, Philosophia Naturalis, János Apáczai Csere
Alberto Castaldini, "Italian Jewish Society and Torah during the Modern Age: Notes for an Anthropological Perspective," Transylvanian Review 25.3 (Autumn 2016): 93-107.
Keywords: Bible, science, rationalism, ghetto, Diaspora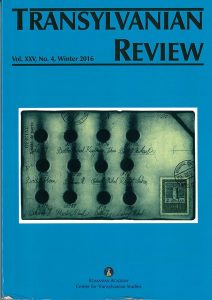 The main theme of Vol. 25.4 (Winter 2016) is World War I, e.g., the triumphal myth of history: Franz Josef – a century after his death, WWI Catholic Prisoners in the Urals, Romanian Schools in Transylvania (1914-1919), WWI in the Memories of the Transylvanian Saxons, Romanian War Diaries (194-1916), "Being Wife and Husband during WWI: A Transylvanian Cultural Perspective," Romanian Families and Households in Northeastern Transylvania in the early 20th century.