We have received several new volumes of journals, series, and dictionaries, as well as significant monographs.
The second volume of Atanasii Bonchev's dictionary of the Church Slavonic language (Π-Я), which was edited by Boriana Khristova and published in 2012, arrived today.
We also received volume 12 (2012) of Preslavska knizhovna shkola, which contains a number of papers from the International Symposium "St. Naum – Work, Associates, and Disciples," held October 29-30, 2010, in Shumen, Bulgaria, on the occasion of 1100th anniversary of the death of St. Naum of Ochrid. See table of contents.
Volumes 8 (April) and 9 (May) of Georgi Petkov and Mariia Spasova's Tŭrnovskata redaktsiia na Stishniia Prolog: Tekstove. Leksikalen indeks are now available.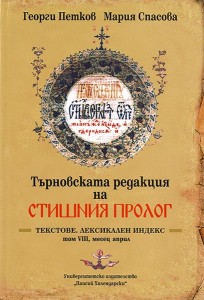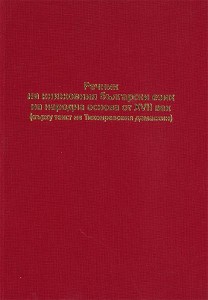 Upon the recommendation of Olga Mladenova, the 2013 Kenneth E. Naylor Memorial Lecturer in South Slavic Linguistics, we ordered the Rechnik na knizhovniia bŭlgarski ezik na narodna osnova ot XVII vek (vŭrkhu tekst na Tikhonravoviia damaskin), a joint publication of the Bulgarian Academy of Sciences' Institute for Bulgarian Language and the Russian Academy of Sciences' Institute for Slavic Studies (Slavistics), which was published in Sofia, 2012.