The Midwest Slavic Association and The Ohio State University (OSU) Center for Slavic and East European Studies (CSEES) are proud to announce the 2014 Midwest Slavic Conference, to be held at OSU March 28-March 30, 2014.
Conference organizers invite proposals for panels or individual papers addressing all disciplines related to Eastern Europe and Eurasia. The conference will open with a keynote address by Eric McGlinchey (George Mason University) and a reception on March 28th, followed by two days of panels.
Please send a one-paragraph abstract in PDF format and brief C.V. to csees@osu.edu by January 13, 2014. Undergraduate and graduate students are encouraged to participate. Limited funding is available for student lodging. Participants can elect to have their abstract, paper, and presentation included in the conference's Knowledge Bank community. Those opting for inclusion in Knowledge Bank can also choose to receive a brief peer review by the conference committee. Please indicate by email when submitting your abstract whether you want to be included in the Knowledge Bank and have your submission reviewed.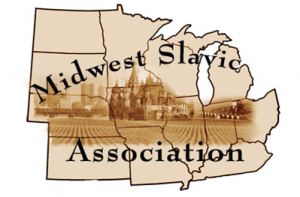 Abstract and C.V. Deadline: January 13, 2014
Notification of Acceptance: February 5, 2014
Panels Announced: February 28, 2014
Paper Submission Deadline: March 14, 2014
The Midwest Slavic Association also would like to announce Between Shots, a series of panels within the conference dedicated to East European/Eurasian film and visual culture. A Central/Southeastern European film will be screened with a corresponding panel discussion. Limited support for travel and lodging may be available to Between Shots participants. Please indicate your participation interest in Between Shots via email when submitting your abstract and C.V.
Center for Slavic and East European Studies at OSU
303 Oxley Hall, 1712 Neil Avenue
Columbus, OH 43210
(614) 292-8770
CSEES@osu.edu
SlavicCenter.osu.edu