The OSU Libraries East European and Slavic Studies department recently received copies of the most recent six issues of Revue de Transylvanie / Transylvanian Review, volumes 24.3-4 (2015) and  25 (2016), from the Biblioteca Centrală Universitară "Lucian Blaga" Cluj-Napoca. The journal is published by the Center for Transylvanian Studies of the Romanian Academy, and is indexed in the Web of Science Database.
The journal includes book reviews, essays, and articles on healthcare, history, literature linguistics, minorities, music (especially Jazz), religion, and other topics in the humanities and the social sciences ranging from medieval times to contemporary life. There are several articles that may be of interest specifically to ScriptoriaSlavica readers: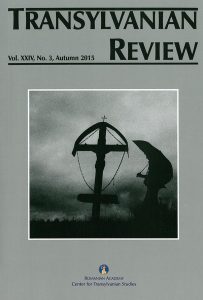 Simona Gabriela Bungău and Viorel-Cristian Popa, "Between Religion and Science: Some Aspects Concerning Illness and Healing in Antiquity," Transylvanian Review 24.3 (Autumn 2015): 3-18.
Florian Dumitru Soporan and Liana Lăpădatu, "La révolution hussite et l'affirmation du voïvodat de Transylvanie dans le contexte de la croisade tardive: Tangences et spécificités," Transylvanian Review 24.3 (Autumn 2015): 98-112.
Keywords: Hussite revolution, Voivodship of Transylvania, Late Crusade