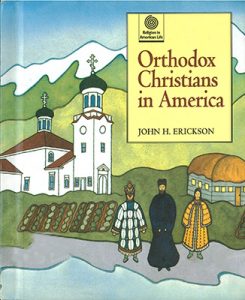 The Very Rev. John H. Erickson, the Peter N. Gramowich Professor Emeritus of Church History at St. Vladimir's Orthodox Theological Seminary, is the author of the children's book, Orthodox Christians in America (1999), which is part of the Religion in American Life series of Oxford University Press. The book is recommended for grades 7 and up or ages 12 and above.
In Chapter 5 "The Quest for Unity," Erickson focuses on "The Birth of a Pan-Orthodox Mission Parish," in Bergen County, New Jersey, i.e., St. Anthony Orthodox Church:
"'To establish a multiethnic parish in Bergen Country, N.J., and to adopt English for use in the services' was the goal of seven Arab-American Orthodox families when they asked the late Metropolitan Antony Bashir for his archpastoral blessing in April 1956….
"In 1958 Gabriel Ashie was ordained a priest and assigned to the new parish by Metropolitan Antony. Within a few years a beautiful church was built in Bergenfield, bordering on Englewood and Tenafly. Pimen Sofronov, the most famous iconographer in this hemisphere, painted the icons for the iconostasis. By that point, the congregation was more than 100 families–30 percent Slavs, 30 percent Arabs, 30 percent Greeks, and 10 percent converts. The phenomenon of the pan-ethnic parish in suburban New Jersey was realized!" (Erickson 1999: 106-107; bold is added for this blog post).
St. Anthony's has some beautiful photos on its website of the icons and stained glass in its church in a Google Photos folder labeled St. Anthony's At a Glance (accessed August 31, 2018).
Not all of the work depicted in the online photo gallery of St. Anthony's interior was done by Pimen Sofronov, but the icon of St. Sophia with her daughters Faith, Hope and Charity, is immediately recognizable and familiar from an icon and fresco at the Three Saints Church in Ansonia, Connecticut.
In the Pimen M. Sofronov Collection at the Hilandar Research Library, we have several of Sofronov's working drawings of St. Sofia with Vera ('Faith'), Liubov' ('Love"), and Nadezhda ('Hope').