The Hilandar Research Library exhibit about the life and work of the Russian Old Believer iconographer Pimen Maksimovich Sofronov (1898-1973) is open to the public in the Thompson Library Exhibit Gallery (1st floor), The Ohio State University, Columbus, Ohio, May 31-September 16, 2018.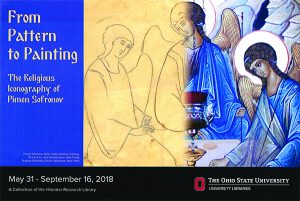 Photos of Sofronov's working drawing or "cartoon" of the Old Testament Holy Trinity and Sofronov's icon of the Holy Trinity from the Holy Trinity Russian Orthodox Church in Brooklyn, New York, by M.A. Johnson, Curator of Slavic Early Printed Books and Manuscripts, Hilandar Research Library
Concept and execution of the graphic mash-up of Sofronov's drawing and photo of Sofronov's icon by Ken Aschliman, University Libraries Exhibitions Coordinator
Layout and design of the promotional flyer by Pam McClung, University Libraries Graphic Designer.