The Midwest Slavic Conference begins Friday, March 28th, at 5:30 pm with a keynote lecture by Eric McGlinchey (George Mason University): "A Theft So Nice, They Did it Twice: Fleecing Local Populations and Foreign Investors in Central Asia" in Page Hall, Room 10, followed at 6:45 pm by a reception on the first floor landing of Page Hall.
Panels will be held on Saturday, March 29, from 8:30 am to 5:30 pm, and Sunday, March 30th from 8:30 am to 1 pm in Mendenhall Laboratory, which is located on the Oval.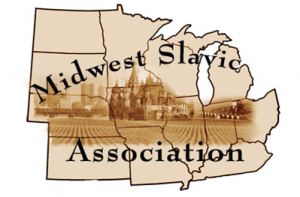 The Midwest Slavic Conference this year coincides with the celebration of the 50th Anniversary of the founding of the Department of Slavic and East European Languages and Cultures at The Ohio State University. Professor Todd Armstrong (Grinnell College), alumnus of Ohio State's Slavic Department, will give the 50th Anniversary lecture, "Russian Mad Men: Valery Todorovsky's Teleserial Ottepel' as a Window on Russian Culture," on Saturday, March 29th, from 12:15 to 1:45 in Mendenhall Laboratory 100.
Source: Website of the Ohio State Center for Slavic and East European Studies