Prior to the publication of his catalog of the Cyrillic manuscripts of Hilandar Monastery, Dimitrije Bogdanović identified fragments HM.SMS.758.IX and 759.VII as being part of HM.SMS.646 Lestvica (circa 1360-1370), so there is not a separate entry in his catalog for either fragment (cf. Bogdanović 1978: 222, 255 and 256). The fragments were placed with the original manuscript №646.
"Напомена. Рукопису придружени листови које су били нађени и заведени као фрагменти 758/IX и 759/VII." Bogdanović 1978: 222.
Therefore, there is also not a separate record for HM.SMS.758.IX or 759.VII in the two-volume print version of the Matejic & Thomas Catalog (2: 662, 743-746), the OSU Library Catalog, or WorldCat. When the Hilandar manuscripts were photographed, these two fragments thus appear on the reel of microfilm of HM.SMS.646 and not on the reel containing fragments HM.SMS.757.1-III, 758.I-VIII,X, and 759.I-VI, VIII-X.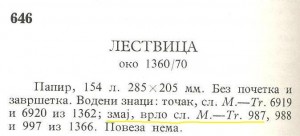 Subsequent research by Predrag Matejic on the watermarks of the Hilandar Monastery manuscripts revealed that fragment HM.SMS.739.III was also from manuscript №646. The publication of this discovery, however, appeared with several critical typos that are now corrected below (noted in boldface):
"Први доказ ваљаности овог метода атрибуције је чињеница да сам помоћу њега утврдио да два фрагмента, бр. 739/III и бр. 759/X припадају хиландарским рукописима бр. 646 и бр. 396 [односно]. У ствари, фрагмент 739/III је део фрагмента 759/VII за који је Димитрије Богдановић утврдио да је део хиландарског рукописа бр. 646." P. Matejic 1995: 288.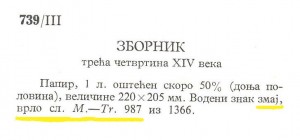 Tatiana G. Popova today identified fragment HM.SMS.739.III as part of the Lestvica text "Слово к пастырю."
Image Sources: Bogdanović 1978: 222 and 243.
Sources:
Богдановић, Димитрије. Каталог ћирилских рукописа Манастира Хиландара. Београд: Српска Академија Наука и Уметности и Народна Библиотека Србије, 1978.
Matejic, Predrag, and Hannah Thomas, comp. Catalog: Manuscripts on Microform of the Hilandar Research Library (The Ohio State University). 2 vols. Columbus, Ohio: The Resource Center for Medieval Slavic Studies (The Ohio State University), in cooperation with the "Ivan Dujchev" Research Centre for Slavo-Byzantine Studies (Sofia, Bulgaria), 1992.
Матеич, Предраг. "Атрибуција рукописа помоћу анализе папира Хиландар у XIV веку." В књ.: Проучавање средњовековних јужнословенских рукописа: Зборник радова са међународне хиладнарске конференције одржане од 28. до 30. марта 1989, уред. Павле Ивич, 287-299. Београд: Српска академија наука и уметности, одељенње језика и књижевности, 1995.