Growing Up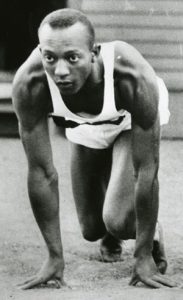 A replica of a small, wooden house stands in Jesse Owens Memorial Park in Oakville, Alabama to commemorate the birthplace of the four-time Olympic gold medalist. It was there on Sept. 12, 1913, that James Cleveland (J.C.) Owens was born, the last of 10 children raised by Henry and Mary Emma Owens. At that time, Jesse's parents were sharecroppers and the family lived on a meager income. By the early 1920s, though, Jesse's older sister, Lillie, had moved north to Cleveland and wrote home how the city offered plenty of jobs in its factories and other businesses. So, the Owens family moved to Cleveland, settling on the east side.
In Cleveland, Jesse enrolled in Bolton Elementary School, where, the story goes, one of his teachers, misinterpreting how he pronounced "J.C." because of his southern accent, started calling him "Jesse." The name stuck.
After Bolton Elementary, Jesse attended Fairmount Junior High, where he met Charles Riley, the gym teacher and track coach. Riley had noticed Owens in gym class and encouraged him to start training for the track team. Riley had great influence on Owens, both technically and mentally. It was Riley who taught his athletes that training for longer races would help them in the 100- and 200-yard dashes. At the same time, Riley taught the mental aspect of competition. His motto, "Train for four years from next Friday," emphasized long-term rather than short-term gains.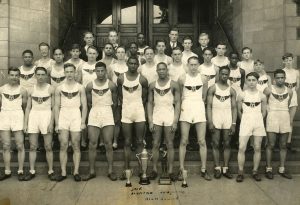 In 1930, Owens enrolled in Cleveland's East Technical School where he was encouraged to focus on track, under the guidance of Edgar Weil, East Tech's new head track coach. But Weil had little experience in the sport, having coached football before arriving at East Tech. Weil then asked Riley to help him train Owens, and under their tutelage, the young athlete soon dominated every race he entered. Only two years later, his coaches were preparing him for a tryout on the U.S. Olympic Team and competition at the 1932 Summer Games in Los Angeles. At the Midwestern preliminary trials at Northwestern University, however, Owens lost all three events he entered: the 100-meter dash, the 200-meter dash and the long jump.
Owens returned to school for his senior year, and he was elected president of East Tech's student council as well as captain of its track team. In the spring of 1933, his last in high school, he placed first in 75 of the 79 races he entered, and he set a new record in the long jump at the state interscholastic finals. The pinnacle was the National Interscholastic Championship in Chicago where he won the long jump, set a world record in the 220-yard dash and tied a world record in the 100-yard dash. When Owens returned to Cleveland, city officials gave him a victory parade, the first of many honorary events over the years celebrating the track star's achievements.
Click for Growing Up photo gallery.
For more information on Owens' Story please see these sources.
Alternative manuscript links:
1936_Owens_Olympics_diary
JesseOwensDiaryTranscription