Timeline
1910
1913: [September 12] Mary Emma Owens gives birth to James Cleveland (J.C.) Owens in Oakville, Alabama.
1920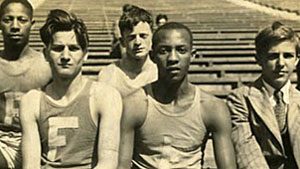 1922:The Owens family moves to Cleveland, Ohio. James Cleveland Owens enrolls in Bolton Elementary School where he becomes known as "Jesse" (from "J.C.") Owens.
1928: Owens sets his first records in the high jump and long jump at Fairmount Junior High School under coach and life-long mentor, Charles Riley.
1930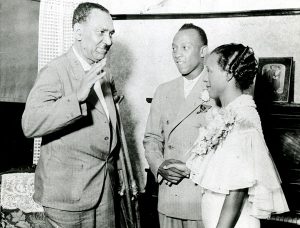 1930: Owens enrolls into Cleveland's East Technical School. Riley follows as a volunteer assistant coach.
1930: Owens and Minnie Ruth Solomon meet.
1932: Owens competes in the Midwestern preliminary trials at Northwestern University. Owens loses all three events in which he competes.
1932: [August] Minnie Ruth gives birth to their first child, Gloria.
1932: [Autumn] Owens is elected president of his senior class and captain of the track team.
1933: [Spring] Owens finishes first in 75 of the 79 competitions he enters. He breaks the long-jump record at the state interscholastic finals.
1933: At the National Championship in Chicago, Owens wins the long jump, sets a new world record in the 220-yard dash and ties the world record in the 100-yard dash.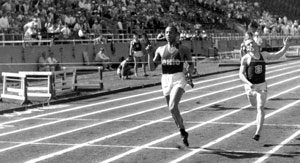 1933: [October 9] Owens enrolls in The Ohio State University.
1935: Owens is appointed as an honorary page for a legislative committee at the Ohio Statehouse.
1935: Jesse Owens and Minnie Ruth Solomon get married.
1935: [May 25] Owens sets world records in the 220-yard dash, 220-yard low hurdles and the long jump in less than one hour at the Big Ten Finals in Ann Arbor, Michigan.
1936: [June 15] Owens finishes his last quarter at OSU before the Olympics.

1936: [July] Owens participates in the Olympic tryout finals in New York, winning all three of his events (100m, 200m, and long jump).
1936: [August] Owens wins four gold medals in the Olympic Games. He sets new world records in the 200 meter race (20.7 seconds), long jump (26 feet, 5 ¼ inches), and 400 meter relay (39.8 seconds), while tying the world record for 100 meter dash (10.3 seconds).
1936: [Winter] Owens becomes ineligible to compete for Ohio State due to poor academic standings.
1936: Owens races a thoroughbred horse in Cuba for $2,000. Owens wins the race.
1937: [January] Jesse signs a contract with Consolidated Radio Artists as an entertainer.
1937: Ruth and Jesse's second child, Marlene, is born.
1938: Owens works for Cleveland's Parks and Recreation Department.
1938: Owens founds Jesse Owens Dry Cleaning Company.
1939: Owens files for personal bankruptcy.
1940
1940: Ruth and Jesse's third child, Beverly, is born
1940: [October 1] Owens returns to OSU but he is soon placed on academic probation.
1941: [December 19] Owens withdraws from OSU.
1942: [January] Owens is appointed the Director of National Fitness by the U.S. Office of Civilian Defense.
1943: Ford Motor Co. hires Owens as Assistant Personnel Director of African-American workers. He is then promoted to director, then later works in public relations.
1949: Owens and his family move to Chicago, where he establishes a public relations agency.
1950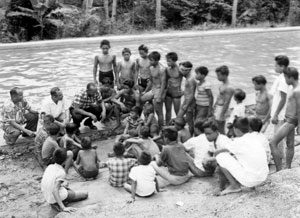 1950: The Associated Press names Owens the greatest track athlete of the past half-century.
1953: [December] Gloria, Owens' eldest daughter, graduates from OSU.
1953: Owens is appointed secretary of Illinois' State Athletic Commission.
1955: Owens travels to India, Philippines, and Malaysia to lead running clinics, but also to promote the economic and political freedoms of the United States.
1956: Owens and several other former U.S. Olympic champions attend the 1956 Summer Olympic Games in Melbourne, Australia, as personal representatives of U.S. President Dwight D. Eisenhower.
1960
1960: Marlene, Jesse's second-eldest daughter, is voted Homecoming Queen at OSU, becoming the first African American to receive the honor.
1961: Marlene graduates from OSU.
1965: The first ARCO Jesse Owens Games is established.
1965: [February] Owens becomes the training and running coach during spring training for the New York Mets baseball team.
1970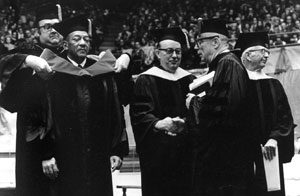 1970: Owens' memoir, Blackthink: My Life as Black Man and White Man, is published.
1971: President Richard Nixon sends Owens to the Ivory Coast in West Africa to lead running clinics and promote economic and political freedoms of the United States.
1972: OSU awards Owens with an honorary doctorate of athletic arts "for his unparalleled skill and ability" as an athlete and for "his personification of sportsmanship ideals."
1973: U.S. Olympic Committee appoints Owens to its board of directors. He spends most of his time in this position pushing for funding to equip and train U.S. athletes.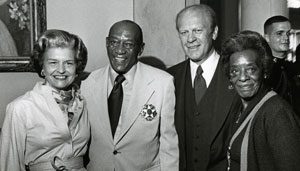 1974: Owens is inducted into the U.S. Track and Field Hall of Fame.
1976: President Gerald Ford presents Owens with the Presidential Medal of Freedom, the highest civilian honor given by the U.S. government.
1979: Owens, a lifetime smoker, is diagnosed with lung cancer.
1980
1980: [March 31] Owens dies at the age of 66.
1984: [May 4] The Jesse Owens Memorial Plaza is dedicated outside of Ohio Stadium.
1984: [July 8] "The Jesse Owens Story" debuts on television with actor Dorian Harewood playing Owens.
1990
1996: [June 29] Jesse Owens Memorial Park is dedicated in Oakville, Alabama.
2000
2001: Ruth Owens dies at the age of 86.
2009: [November 6] At a hearing held at OSU, state lawmakers hear testimony on why Owens should be chosen for a statue to be placed in the Nation Statuary Hall in the U.S. Capitol.