Owens' Legacy: a National Icon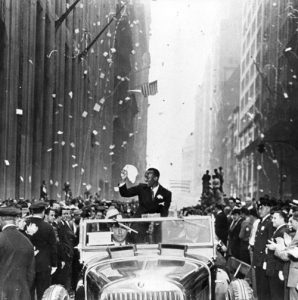 Back home, amid the hoopla over his Olympic achievements at the 1936 Berlin Games, there were plenty of opportunities for Owens to take advantage of his fame. Soon enough, Owens signed on with a New York agent and was making money as a one-man show, running before baseball games and other athletic events against a hometown's fastest athlete. In late 1936 in Cuba, that turned out to be a thoroughbred horse, after that country's fastest runner, Conrado Rodrigues, pulled out of the event. With a 40-yard head start, Owens won the race and $2,000.
After a whirlwind of post-Olympic promotional activities and a brief return to Ohio State University in 1940, Owens settled into a life of nearly constant travel. Whether it was encouraging physical fitness among African Americans during World War II or promoting the Olympic ideals during the Winter and Summer Games, Owens was often on the road. He did take time to start several businesses, the first of which was the Jesse Owens Dry Cleaning Company, founded in 1938. That firm was in debt after about a year, however, and in 1939 Owens filed for personal bankruptcy. He also owed money to the Internal Revenue Service for failing to pay taxes on income earned after the Berlin Olympics. Decades later, he would be in trouble with the IRS again for failing to file income tax returns for several years in the late 1950s and early 1960s.
Owens was much more successful with several public relations firms, through which he worked on various promotional and advertising projects. Much of his income was earned on the road, however, from various appearances around the country, ranging from automobile dealers' conventions to Kiwanis Club meetings to university symposiums. He also appeared in advertising and at promotional events for such corporations as Ford Motor Company and Sears, Roebuck and Company.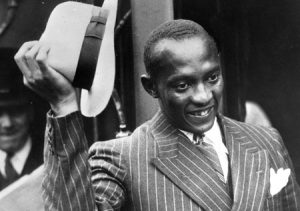 Owens also made many appearances for various nonprofit causes and government programs. In the 1950s, for instance, as part of a Cold War effort to promote democracy aboard, the U.S. State Department asked Owens to tour Asia as a goodwill ambassador. Owens stayed involved as well in advancing the Olympic cause. In 1956, for instance, he and several other former U.S. Olympic champions attended the Summer Olympic Games in Melbourne, Australia, as personal representatives of U.S. President Dwight D. Eisenhower. In 1973, he was appointed to the board of directors of the U.S. Olympic Committee. In that position, he spent much of his time pushing for funding to equip and train U.S. athletes.
Meanwhile, Owens spent a lot of time working with charity groups, mostly serving as a role model for youngsters through his work with Boys' Clubs of America and through his association with the ARCO Jesse Owens Games. Along the way, he was showered with statues, plaques and other mementoes to honor him. Four years before his death, in 1976, President Gerald Ford presented Owens the Presidential Medal of Freedom, the highest civilian honor given by the U.S. government.
In 1970, his memoir, Blackthink: My Life as a Black Man and White Man, was published. In it, Owens criticized the tactics used by African-American militants as being counterproductive. Though Owens had suffered discrimination as an athlete – his family was refused accommodation at a number of New York hotels when they traveled there to welcome him home from Berlin, for example – his message was that anyone could achieve his dream through hard work and perseverance. Critics said his fame had sheltered him too much from the harsh reality faced by most African Americans at the time.
Still, Owens had many fans, even those who were far too young to remember the 1936 Berlin Games. He drew crowds at all of his appearances, and he received many letters and cards over the years, some from people just looking for an autograph, but many from those who had been inspired by Owens' achievements. In a mailgram decorated with teddy bears and dated Dec. 17, 1977, Andy Monfried of East Brunswick, New Jersey, told Owens: "Every time I go running I always think of you. When I come home from school I pretend I am you. … I have you in a Picture autograph in the safest place in the house. When I get older I will show my children and say one time this man was the best athlete in the world. It is a honor to have Jesse Owen (sic) Picture Autograph. Someday I will do what you did. And you'll be proud of me."
Click for Legacy photo gallery.