The Owens Family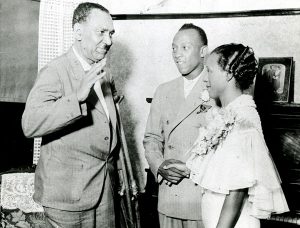 By the time Jesse Owens traveled to Berlin for the 1936 Olympic Games, he was already married with a baby daughter. Owens and Minnie Ruth Solomon had met at Fairmount Junior High School in 1930 in Cleveland when he was fifteen and she was thirteen. They dated steadily throughout high school, and Ruth gave birth to their first baby daughter, Gloria, on Aug. 8, 1932.
Five years later, in 1937, the couple's second daughter, Marlene, was born, and Beverly, the youngest daughter, was born in 1940. Gloria and Marlene both later attended Ohio State, and Marlene became OSU's first African-American Homecoming Queen in 1960.
Jesse supported his new family at first with various odd-jobs, such as pumping gas at a Cleveland gas station, while Ruth quit school to work in a beauty parlor in Cleveland, where she lived with her parents. It was the first of many long periods of time spent apart over the years, as Owens traveled first for athletics, then to speaking engagements and philanthropic events around the world.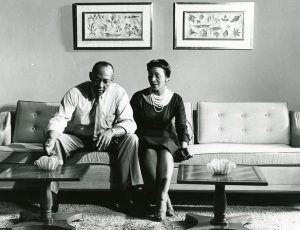 In the early 1970s, with the children grown, Ruth and Jesse left their Chicago home of more than 20 years for the warmer climate of Scottsdale, Arizona. In late 1979, Owens, a lifetime smoker, was diagnosed with lung cancer. Three months later on March 31, 1980, he died at the age of 66.
After Jesse's death, Ruth carried on his philanthropic work through the Jesse Owens Memorial Foundation, and watched over the family's interests when commercial enterprises arose, such as the production of The Jesse Owens Story, a four-hour television movie that coincided with the 1984 Summer Olympics in Los Angeles. She traveled extensively to numerous dedications, ground-breakings, and other honorary events held in Jesse's memory. Memorial events included the renaming of the road leading to the Berlin Olympic Stadium and the creation of a sculpture garden outside Ohio Stadium at The Ohio State University. Ruth died in 2001 at the age of 86.
In 2009, Owens' three daughters returned to OSU to testify at a field hearing before state lawmakers who were considering the Olympic athlete to be chosen for a statue to be placed in the National Statuary Hall in the U.S. Capitol. At the hearing, Marlene said her father was "a husband, father, son, grandfather, friend, athlete, humanitarian, motivator, American and role model. He was loyal to each of these roles beyond expectation."
Click for Family photo gallery.