Collection Inventory
Finding Aid and Collection Inventory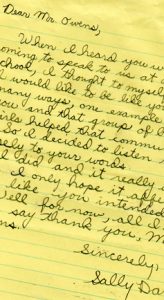 The Jesse Owens Collection includes papers, photographs and artifacts that pertain to Jesse Owens' athletic career, his business interests, his philanthropic activities and his personal life. Generally, the items in this collection span a time period from when Owens was a student at The Ohio State University, starting in 1933, to his death in 1980. Much of the papers come from Owens' later life and pertain to his career as a motivational speaker and his involvement in various philanthropic activities. The photographs and artifacts, however, relate to activities in which he was involved throughout his life. Of special interest are the diary that Owens kept during the Olympics of 1936 and four medals awarded during those games. (The original medals were lost years ago and were replaced by the German government.) Papers from his wife, Ruth Owens, and his daughter, Marlene Owens Rankin, also are included in this collection. Some of these materials are dated up to the year 2000.
Note: Artifacts in this collection have been videotaped and photographed. A copy of the videotape is kept in the Photo Archives, room 135, drawer 102-21.6. To view the photographs, which are maintained in a computerized database, see a member of the Archives reference staff.
This collection is divided into the following series:
Series I: Correspondence
Series II: Correspondence: Speaking Engagements
Series III: Jesse Owens Foundation
Series IV: "Jesse Owens Story"
Series V: Marlene Owens Rankin
Series VI: Memorial Hospital of Phoenix
Series VII: Olympics
Series VIII: Personal Items
Series IX: Ruth Owens
Series X: Up With People
Series XI: Ohio State University
Series XII: Tributes/Awards/Artifacts
Series XIII: Books/Magazines/Scrapbooks
Series XIV: Get Well/Condolences
Series XV: Clippings
Series XVI: Jesse Owens Foundation
Series XVII: Jesse Owens Memorial Park
Series XVIII: Audio-visual Materials
Series XIX: Photographs
Restrictions
Commercial use of any of the materials contained within the Jesse Owens Collection must also have approval from Luminary Group. Contact the company for more information.
Processing completed by Kevlin Haire as of February 2005.