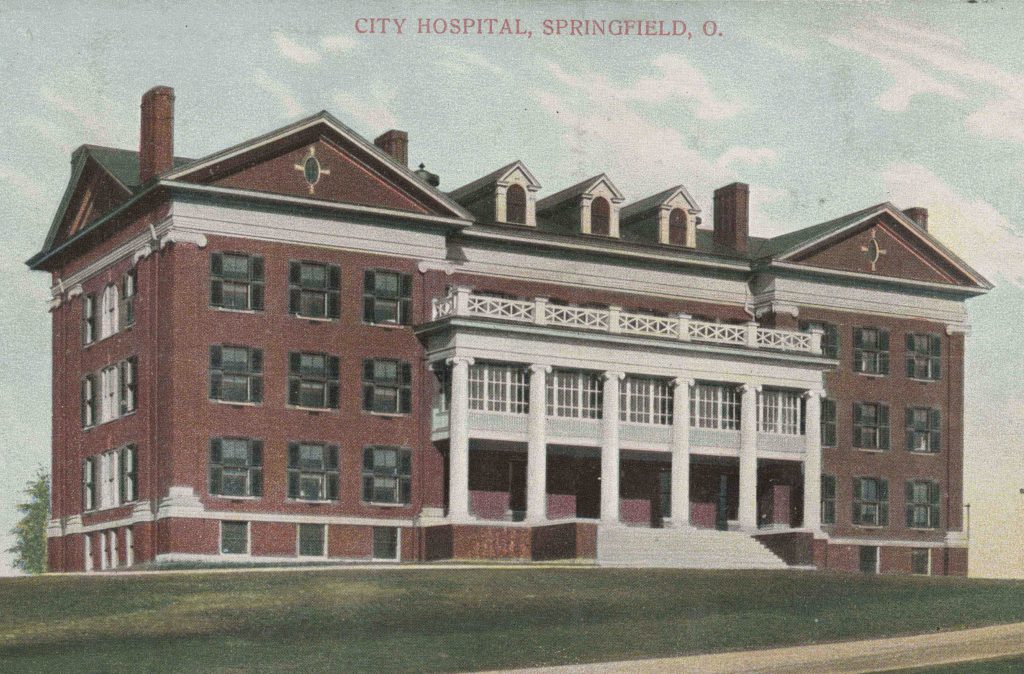 City Hospital was originally named the Mitchell-Thomas Hospital. It was Springfield's first city hospital and opened on December 1, 1887. The hospital was located in a building and on a lot donated by Ross Mitchell, a local businessman engaged in the manufacture of agricultural products, linseed oil processing, and real estate. Another prominent businessman, John H. Thomas, donated money for an additional building, which was connected to the Mitchell building by an arcade. The hospital opened with a capacity of twelve beds, later increased to thirty-one.
By the turn of the twentieth century, the limited capacity of the hospital combined with the noise and confusion of a location so close to the railroad made a new site desirable. The location chosen for the new Springfield Free City Hospital had been the Sharp family homestead, bounded by East Street, York Street and old Clifton Road. It was on the crest of a hill, known as "hospital hill" for many years after, and was said to be an old American Indian burial mound. The cornerstone of the Springfield Free City Hospital was laid on June 27, 1903 and the new 135-bed hospital opened on December 19, 1904.
By the late 1920s, the city had again outgrown its hospital and the search began for a third location. The southeast corner of High Street and Burnett Road was chosen and the hospital opened its doors on September 25, 1932 with 260 beds. In 1965 the hospital was reorganized as a community non-profit association and became Community Hospital of Springfield and Clark County. By 2003, additions had increased the capacity to over 300.
The Community Hospital School of Nursing, later known as Springfield Regional School of Nursing, was an affiliate of the City Hospital and offered a Diploma in Registered Nursing (RN). The school began in 1904 and it received the National League for Nursing Accreditation in 1953. Students began receiving college credits from a regionally accredited cooperating university in 1970 and in 2000, Urbana University offered general education courses on the School of Nursing's campus. The School of Nursing closed on June 30, 2012, and the RN program was moved to Clark State Community College.