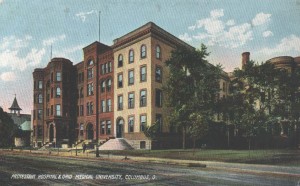 Protestant/White Cross/Riverside Methodist Hospitals
After outgrowing its original location on Dennison Avenue, Protestant Hospital moved to a new facility at 700 North Park Street in 1898. The site consisted of a large five-story building and was incorporated March 18, 1891 by the Methodist Episcopal Church. Because the Ohio Medical University (1892-1907) financially supported the hospital after its relocation, the University was given a perpetual lease for clinical privileges.
Protestant Hospital was renamed White Cross Hospital in 1922. Eventually modernization caught up with the physical aspects of the hospital and this site was abandoned in 1961 as its successor, Riverside Methodist Hospital, opened on Olentangy River Road. The Protestant/White Cross Hospital building was demolished in 1970.
*Part two of a seven part series highlighting the history of Columbus medical centers.