Overview
For most people, thoughts of historical exploration in Antarctica typically center on dogs, skis, snowshoes, and people in fur, not paintbrushes or sketch pads. Actually, the idea of employing artists on expeditions has a long history. Photography began in the 1830s, but only by the late nineteenth and early twentieth centuries was it possible to take photographs in cold environments. Therefore, it was common for explorers of polar regions to be accompanied by artists to visually record the sights and phenomena for research and for popular distribution in books and articles.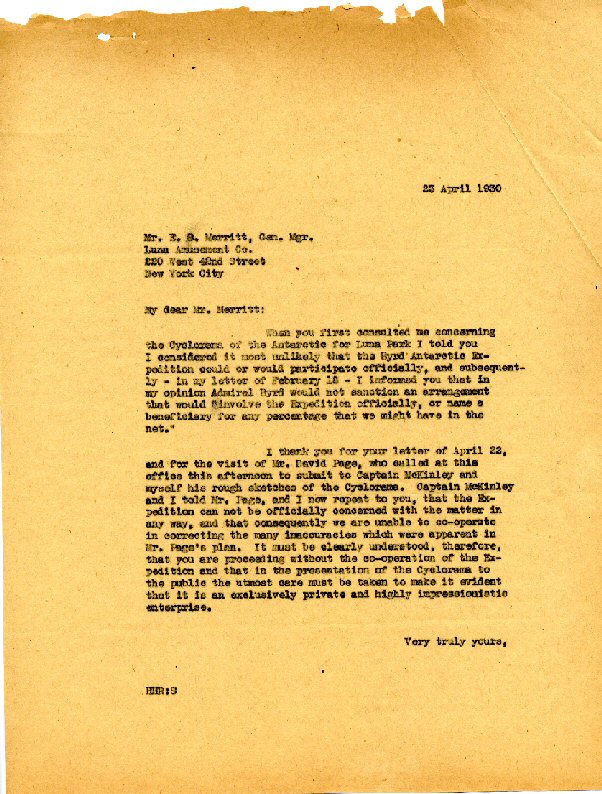 Admiral Richard E. Byrd felt that there would be no room for an artist and therefore initially rejected the idea of taking one on his second expedition to Antarctica, 1933-1935. David Abbey Paige had been working successfully as an artist in New York City, and was intensely interested in the depiction of nature, having received several commissions to paint nature-based murals. Upon return of the first Byrd Antarctic Expedition in 1930, Paige was commissioned by the Luna Amusement Company to create a "Panorama of the Antarctic," for the Coney Island Amusement Park. He contacted Byrd and other members of the expedition in an effort to get their approval of the "cyclorama." Cycloramas were popular in the 19th and early 20th centuries. Artists tried to give their viewers the 3D/surround effect by painting a large-scale, realistic scene on the inside of a cylinder. Standing in the middle of the cylinder, a viewer would feel as if he was seeing a distant place, or observing a long-gone event in person, because the image wrapped around him filling his vision. The Byrd expedition members were not impressed by Paige's preliminary sketches and made it clear that they would not officially sanction the cyclorama, nor would they have any official connection to it.
Paige would not be dissuaded, and continued his interest in depicting the "color in Antarctica." After successful completion of the Coney Island cyclorama, he continued to complete paintings of Antarctica, using the information he gained from discussions with various expedition members, as well as data gathered from his study of various meteorological and scientific works. He completed 13 such canvases, and invited members of the expedition to come and view his work. As they did so, he made a charcoal sketch of each man. His work impressed the members of the expedition. In a letter to Paige, Larry Gould stated that, "I would not have believed that anyone who had not been in the Polar regions could have so effectively caught those opalescent blues and kindred colors as you have…your work has that rare charm of being thoroughly authentic as well as genuinely artistic." Gould was so impressed, in fact, that he included two of the paintings in his book, Cold (New York: Brewer, Warren & Putnam, 1931), stating in the preface, "Because words are such an inadequate medium for conveying expressions of color, and because David Paige has so aptly caught certain phases of Antarctic colors on his canvases, I am grateful for his friendly interest."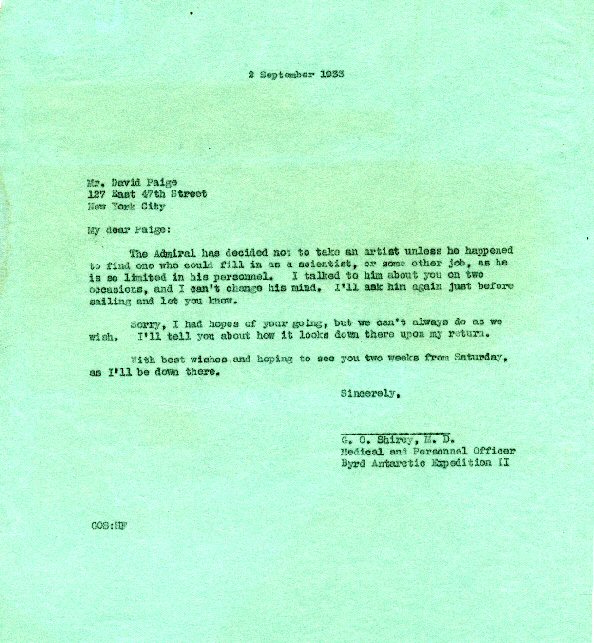 In 1933, Paige applied for the position of Expedition Artist for Byrd's Second Antarctic Expedition. Byrd replied that there would be no room for an artist, although he would have liked to take one. Although disappointed, Paige continued to pursue his dream of becoming the expedition artist through lobbying several members of the crew, as well as garnering letters of recommendation from the several important personalities of the day, including Senator Coolidge of Massachusetts, Dr. Andrews of the American Museum of Natural History, and Mr. Dart of the New York Times. It is unclear what finally changed Byrd's mind, but in October 1933, Byrd conceded. David Paige would be the artist on the Second Byrd Expedition to Antarctica.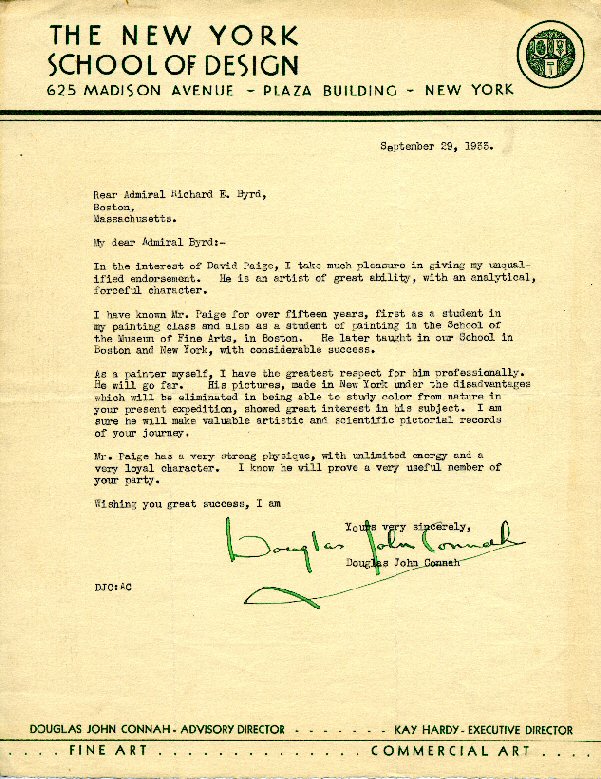 Records indicate that Paige completed "100 pastels of various sizes; about 300 pencil drawings of aurura australis, and eight portraits in charcoal of the men as they appeared through the Winter Night, with their picturesque beards." Further documentation in the Byrd files states that Paige exhibited some of the works in various galleries upon his return to the United States in the 1930s. Correspondence indicates that the collection was destined for the Smithsonian. It is not clear from the existing documentation why this did not occur. In any case, the correspondence between David Paige and Admiral Byrd ends in 1939. Eventually, Paige became a scenic artist for the motion picture industry in California.
In 1985, The Ohio State University acquired the Papers of Admiral Richard E. Byrd. Within the collection are 60 of the 100 pastel drawings that David Paige completed on Byrd's Second Expedition to Antarctica. In 2004, the German Maritime Museum and the Alfred Wegener Institute in Bremerhaven, Germany, exhibited the pastels for the first time since the 1930s. In October 2005, the pastels will again be exhibited, this time on the campus of The Ohio State University, Hopkins Gallery, in an exhibition entitled, "Passions and Visions: Antarctica."
Source Notes:
All source documents used in this introductory matter can be found in the Richard E. Byrd collection, folders 4850 and 2663, Byrd Polar Research Center Archival Program, The Ohio State University Archives.