Centennial: Celebrating 100 years in 1970
The One-Hundredth Anniversary
From "History of The Ohio State University." IX, The Fawcett Years, 1956-1972
By Francis P. Weisenburger
The charter for the establishment of the Ohio Agricultural and Mechanical College (later The Ohio State University) was passed by the Ohio Legislature March 22, 1870, so steps were taken in 1969 to provide for the proper observances of the centennial. Vice President Alfred B. Garrett served as chairman of the University Centennial Committee of twenty-nine members. Frederick Stecker, Executive Director for University Relations, was relieved of those duties to become University Centennial Coordinator, representing Fawcett on the Committee.
Steps were taken to provide for the writing of the histories of the various departments, colleges, schools, and activities. As a result, many very detailed accounts of the previous life of the University were presented under the leadership of Garrett. A published volume, The Ringing Grooves of Change, included scores of illustrations of life at Ohio State over a century. The Committee also sought to develop a broader and deeper understanding of the nature of the University by assessing its past, recognizing the past as prologue, and stimulating positive planning for the next century.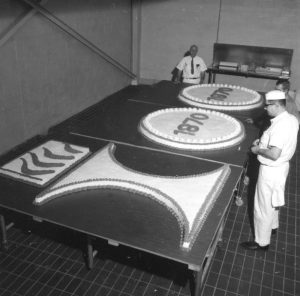 The first event was "The Buckeye Centennibration" in the Ohio Union, January 10, 1970. Various persons of prominence were invited. The celebration included the presentation of the centennial objectives on a scroll, the crowning of the Centennial Queen, and the cutting of a 300-pound birthday cake with 100 candles.
The Alumni Centennial Weekend got under way on March 20, as 400 couples gathered for the black-tie Centennial Ball, which included a reception and dinner at the Columbus Sheraton Hotel.
The various colleges had their observances. Thus, the College of Agriculture and Home Economics presented Walter J. Hickel, Secretary of the Interior, who spoke at Mershon Auditorium, February 12, on "Environment: Challenge of the 70's."
In April, the Division of the Theatre offered a world premiere of a new play by Jerome Lawrence and Robert E. Lee, "The Night Thoreau Spent in Jail." A symposium on "Priorities in Administration" was sponsored in April by the College of Administrative Science, featuring five well-known alumni as panelists.
Climaxing the year-long celebration was a black-tie reception and dinner in the new Center for Tomorrow in December when 100 Centennial Achievement Awards were presented to prominent representatives of the realms of art, business, education, government, and medicine.
By the end of the year, a Centennial Fund of $10,000,000 contributed to the University Development Fund had been raised to further worthy programs of the University.
For more information, view selected centennial documents.