The Presidential campaign of 1884 pitted Republican James Blaine against Democrat Grover Cleveland. The popular humor weekly Puck repeatedly portrayed Blaine as a man tattooed with references to scandals from early in his career, including selling his Congressional influence. This cartoon alludes to the famous painting Phryne before the Areopagus by Jean-Léon Gérôme. The painting depicts the beautiful courtesan Phryne, who was supposedly acquitted at a trial after her defender exposed her naked body to the jurors to gain their sympathy.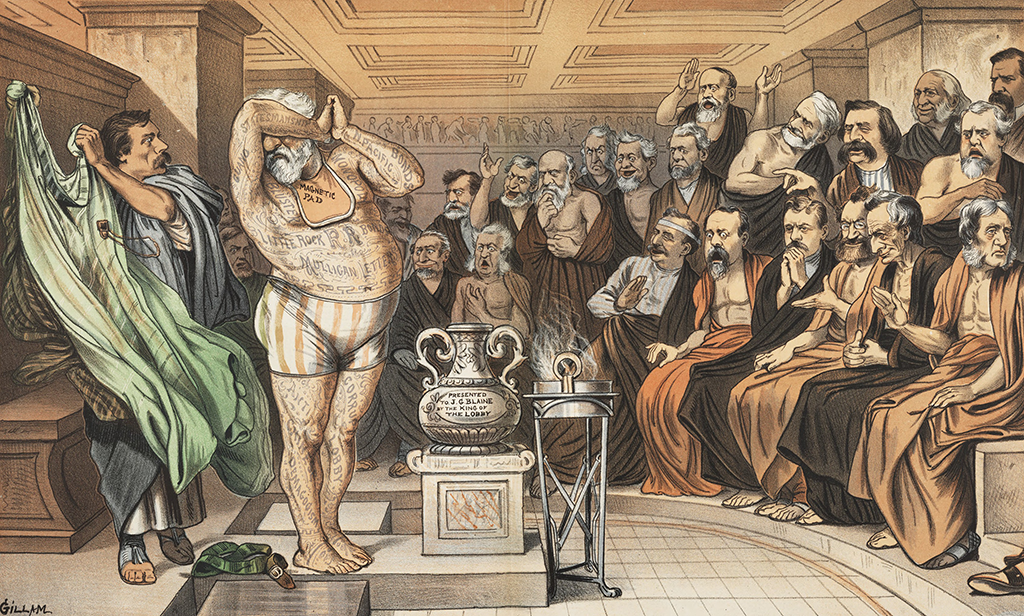 Victor F. Gillam
Phryne before the Chicago Tribunal
June 4, 1884
Puck Vol. 15, Issue No. 378
Chromolithograph
At the same time, Joseph Pulitzer, who had purchased the struggling New York World in 1883, employed cartoonist Walt McDougall in a wildly successful campaign to discredit Blaine. McDougall's anti-Blaine cartoons were published on the front page of the World, above the fold. The World's circulation soared. The most devastating critique of Blaine shows the candidate dining at the exclusive restaurant Delmonico's with his rich and influential supporters. The diners, sporting diamond shirt pins, feast on "Monopoly Pudding" and "Patronage," while a poor family begs for food. The writing on the wall behind the diners alludes to the Biblical story of King Belshazzar, who holds a great feast where his lords drink from vessels looted from Solomon's Temple. Strange writing appears on the wall, and is interpreted as a message from God signaling the doom of the King. This cartoon was reprinted on leaflets and billboards during the election. Blaine narrowly lost the election and blamed the cartoon campaigns that had branded him in the public mind as greedy and corrupt.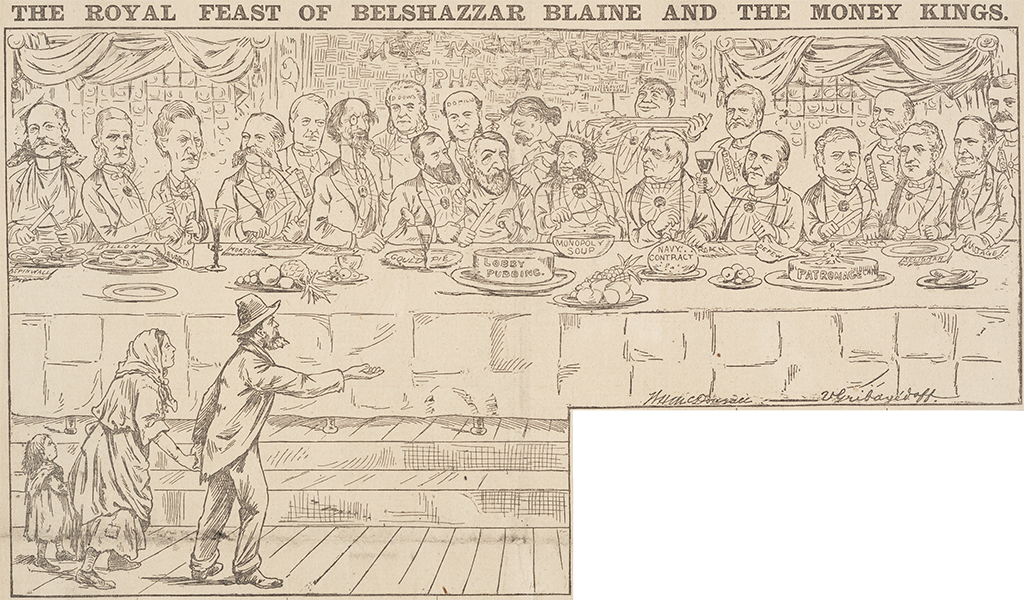 Walter McDougall
The Royal Feast of Belshazzar Blaine and the Money Kings
October 30, 1884
New York World
Ink on newsprint
Bill Loughman Collection