Timeline of Thomas Nast's Life
1840
1840
Born in Landau, Germany, on September 26. His father, Joseph Thomas, held liberal political veiws and worked as a trombonist in a military band.
1846
Immigrated to the United States with his mother, Appolonia Abriss, and his sister, Catherine. The family lived in New York City where his father joined them in 1849.
1850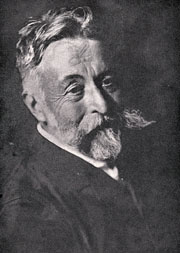 1854
Studied art with Theodore Kaufmann, a German painter who specialized in historical scenes.
1855
Worked at the Thomas Jefferson Bryant Gallery of "Christian art" where he also copied the historical paintings in the collection as a part of his artistic training.
1856
Hired as a reportorial artist for Frank Leslie's Illustrated News.
1859
Joined the staff of New York Illustrated News.
1860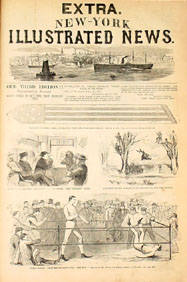 1860
Sailed to England to cover a prizefight for the New York Illustrated News; then traveled to Italy to report for the New York Illustrated News and the London Illustrated News on Giuseppe Garabaldi's military campaign in Sicily during the Italian Revolution.
1861
Returned to the United States and married Sarah (Sallie) Edwards on September 26.
1862
Began working for Harper's Weekly as a freelance artist.
1863
Created his first Santa Claus drawing, "Santa Claus in Camp," for
publication in Harper's Weekly on January 3.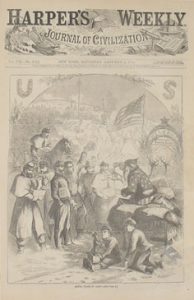 1864
Published "Compromise with the South," a cartoon influential in President Lincoln's reelection campaign, in Harper's Weekly on September 3.
1867
Premiered the Grand Caricaturama theatrical presentation, thirty-three eight-by-twelve foot murals depicting American history, in New York and Boston.
1868
Began his cartoon campaign against William Magear Tweed, boss of New York City's Tammany Hall, and his associates with "A Respectable Screen Covers a Multitude of Thieves" in the October 10 issue of Harper's Weekly.
1870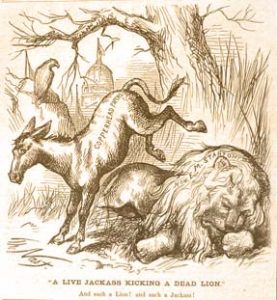 1870
Adopted the donkey as a symbol for the Democratic Party in "A Live Jackass Kicking a Dead Lion" published January 15 in Harper's Weekly.
1871
Moved his family to Morristown, New Jersey, from New York City, after receiving threats from the Tweed Ring.
1872
Created five color caricatures of American politicians for Vanity Fair as the first American artist invited to contribute to the prestigious London magazine.
1873

Made a seven-month-long illustrated lecture tour billed as "The Prince of Caricaturists" and the "Destroyer of Tammany Hall."
1874
Produced the first cartoon to use the elephant as a symbol for the Republican Party in "The Third Term Panic" published in Harper's Weekly on November 7, 1874.
1879
Received Silver Army Canteen as the gift of 3,500 members of the Army and Navy in gratitude for "the patriotic use he has made of his rare abilities as the artist of the people."
1880
1884
Refused to back Republican presidential candidate James Blaine, and was abandoned by many of his long-time Republican friends.
1886
Left Harper's Weekly after choosing not to sign his renewal contract due to conflicts with the magazine's management.
1890
1892
Purchased New York Gazette, an unprofitable weekly newspaper, and renamed it Nast'sWeekly.
1893
Suffered major financial problems due to the financial failure of Nast's Weekly in March.
1894
Received several commissions for paintings based on historical subjects, and returned to his original artistic ambition of painting.
1900
1902
Appointed Consul General by President Theodore Roosevelt to the commercial Ecuadorian port of Guayaquil. He died there of yellow fever on December 7, and was buried in Ecuador.
1906
Reburied in Woodlawn Cemetery, Bronx, New York.