"The Off Year" Harper's Weekly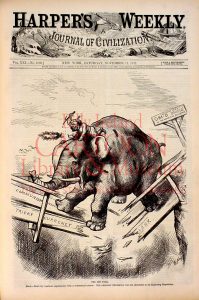 "The Off Year," Harper's Weekly, November 17, 1877, cover.
Wood engraving.
The elephant has been a symbol of strength since Roman times. Its first use by the Republican Party is believed to date from a printer's cut (pre-made pictures kept ready to use as illustrations when needed) of an elephant used by an Illinois newspaper during Abraham Lincoln's 1860 presidential campaign. Thomas Nast was a staunch Republican, and he deliberately chose the elephant as a symbol for his own Party because of the animal's great size, intelligence, strength, and dignity. It first appeared in his November 7, 1874 cartoon, "The Third Term Panic," which was a comment on fears that Grant would run for a third term as President that led some Republicans to vote with the Democrats. Nast continued using the elephant thereafter, and gradually it became the Republican icon as it was adopted by other cartoonists.