Foursquare is an location-based social networking service (some call it a game) that is a combination a Facebook status, a Twitter update, and a Yelp restaurant review.  Users "checkin" at different locations,  unlock badges, post "to-dos" and "tips" for different locations. The goal of the service is to help users find new ways to explore a city by "discovering new places, doing new things and meeting new people."
Users checkin to foursquare from their mobile devices using a text message or from an iPhone or Droid application. There is also a web form and the FoursquareX desktop application for (mac) laptop users.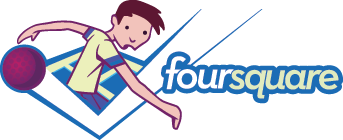 Users can also can see other foursquare users that have checked into the same physical location, or that are in close vicinity.  The application is able to identify a user's current location using a variety of methods including GPS and WiFi mappings.
For example, one can see those that have checked into Ohio State's Thompson Library,  the Science and Engineering Library, or even Adriatico's Pizza.
Upon checkin, one may leave a short tip about the location or about services offered at that location. For example:
Checkins can be pushed to Facebook or Twitter accounts, or, only be communicated to other foursquare users. Alternatively, one can also checkin but elect not to share the location. Such checkins appear as [off the grid]. One can also get a direct message from Twitter when a friend checks in.
The possible uses for foursquare in libraries could include:
–  Incentives for those checking into the library. The Mayor could be given reserved seating or priority access to group study rooms.

– Library events could include check-with prizes for the first person who checks in or includes a 'shout.' 

– Someone checking in, and identifying themselves to staff, could be given $X amount of free printouts/copies.
There are other similar services that help friends find each other like BrightKite and Google Latitude. However, there is currently more excitement around foursquare since it incorporates elements of gaming and social competition.
Here are a couple of tips for new foursquare users:
– Don't push all your checkins to Facebook or Twitter. This can quickly annoy your friends, or make them feel like they are stalking you
– Do selective posting to Facebook or Twitter and make sure to include a 'shout.'
– Turn off the option to push an update Facebook or Twitter when you are elevated to mayor or earn a badge.
References:
Foursquare, Libraries, and Librarians
Foursquare in Libraries: Social Media Incentives for Engaged Patrons
Location based services and Libraries – Tweets & Foursquare
Fourquare and Libraries – Anything There?