Voices in Humanism
BE LIKE BONNIE
Bonnie Bowen, artist, 'spreading joy with her whimsical watercolors' during the pandemic. OSU class of 1951
"I never dreamed it would take off like it did. All I do is draw the pictures."
— Bonnie Bowen, artist
Bonnie Bowen's art has indeed taken off with sometimes 14,000 to 25,000 views a day on her Facebook page titled: "Bonnie Bowen #belikebonnie." Her aspiration with the paintings, she said, is to "spread happiness, comfort, and hope" during the pandemic.
The painting posts began March 24, 2020 at the suggestion of her daughter Betsy Bowen Hampton. What began as an idea to help her mother get through whatever was coming next with COVID restrictions, has become a massive sensation with fans such as Dr. Amy Acton and Governor DeWine. There have been television appearances and newspaper stories. Bonnie has been contacted by a national talk show for a possible appearance. The most popular paintings have been of Dr. Amy Acton and her daughter demonstrating safe distance, and the O-H-I-O med staff painting.
Themes in the beginning of the series were tributes to the medical staff and frontline workers and along came happy-making beach bunnies enjoying a glass of wine, cavorting families, movies like the BLUES BROTHERS, and even one of Dr. Rustin Moore, dean of the Ohio State University's College of Veterinary Medicine.
The paintings have continued everyday and the comments from the posts reassure Bonnie that her work is potent medicine for the heart and soul.
One painting is of her dear friend Donna Clawson who has needed to isolate during the pandemic. She is looking out her window. Many people commented that the image reflected the feeling of their own isolation.
Comments on the Facebook page confirm that Bonnie's art is a real shot in the arm, an assist to the vaccine. Comments such as: "Bonnie, just what I need on a gloomy day!" "Anything by the beach and water always perks me up." "I do look forward to your delightful drawings. Thank you for your gifts of joy." "Started my day off with a big smile." "You are such an inspiration to me and so many more."
One woman expressed her gratitude for the walking on the sun picture. She said her brother had died the day before and she was comforted thinking of him also walking on the sun.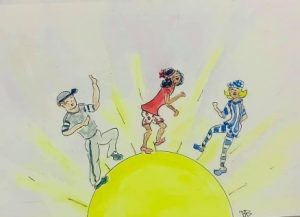 When Bonnie posted the OSU cheerleaders in a pyramid formation, the comments ranged from, "Team Work" to "Were you a cheerleader, Bonnie?"
Bonnie was not an OSU cheerleader but she knows how to raise spirits and rally the team. She took to heart the April 2020 statewide message that we should "end this together and be safe, stay home." She puts these COVID guidelines into her art.
Bonnie is an attractive, vivacious, talented, funny, and intelligent woman, who happens to be 91. The "#belikeBonnie" on her Facebook page derives from daughter Betsy's childhood friends, (who remain her friends to this day), who love Betsy's mom and want to emulate her joie de vivre. Betsy helps Bonnie with social media and increasing requests for interviews and products. Betsy comes from a marketing background.
Betsy said, "Mom has a great attitude toward life. She feels there is a reason for whatever happens, and she takes everything in her stride, no matter what. She is happy 99.8% of the time, even in the worst of times. She clearly has sipped from the fountain of youth."
Bonnie's doctor agrees that Bonnie is a walking-talking age defier. He once asked her what the secret of her enduring youthful spirit is. Bonnie explained she enjoys wine with dinner. The doctor asked, "What kind of wine do you drink?" Bonnie answered, "Chardonnay." The doctor told her he was going to buy some Chardonnay.
Charities like the Red Cross and Huckleberry house have benefitted from t-shirt and greeting card sales. More plans are in the works for prints, a calendar, and a book.
None of this might have happened had it not been for Mrs. Buck, Bonnie's 3rd grade teacher whom Bonnie idolized. Mrs. Buck asked Bonnie to draw pilgrims on a mural in the school for Thanksgiving. Bonnie's love and practice of art started there and continued at Ohio State where she majored in education with a minor in art.
Her ideas spring from her family life, her friends, the heroics of frontline workers, and from her Facebook fan comments. She was preparing her painting for another post before this interview and because rain was in the forecast and the song lyrics, "Raindrops keep falling on my head" emerged from her mind, she conjured a lovely lady in a flowery raincoat with matching umbrella prepared for come what may.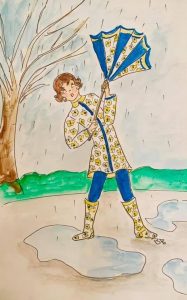 Into every life a little rain will fall. Nine years ago Bonnie was widowed. She and her husband, Grant, had known each other from the ages of 2 and 3 years old. They were married after college. A second great grandchild is on the way.
In September 2020, COVID struck Bonnie. It was a stretch of a few weeks before Bonnie got her energy back and Betsy knew her mom was better when she started painting again. "I like to bring sunshine into lives," Bonnie said. Her fans brought sunshine to Bonnie with 100,000 Facebook well-wishes. The community of #belikeBonnie are all helping each other through, much like the people in Italy singing off their balconies in the evening, also captured by artist Bowen.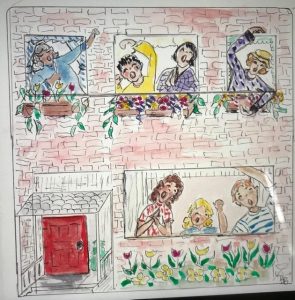 Bonnie is grateful for her education at Ohio State. She is in complete awe and admiration for the heroics of the essential workers. She has a special message for all of the staff at the hospital: "Thank you for the help you give people and all the time you spend saving so many lives. It is truly remarkable." She would also like everyone to know, there is light at the end of the tunnel.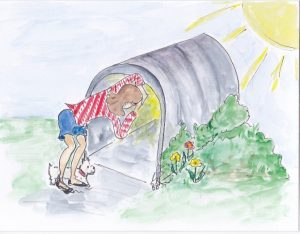 Better Days Ahead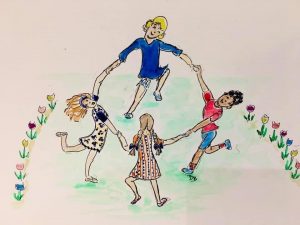 Patricia Wynn Brown
Writer and Performer
Medicine and the Arts Board
Author of: ESSENTIAL STORIES: Medicine During COVID-19 and the Lives of Practitioners at OSU Wexner Medical Center