Voices in Humanism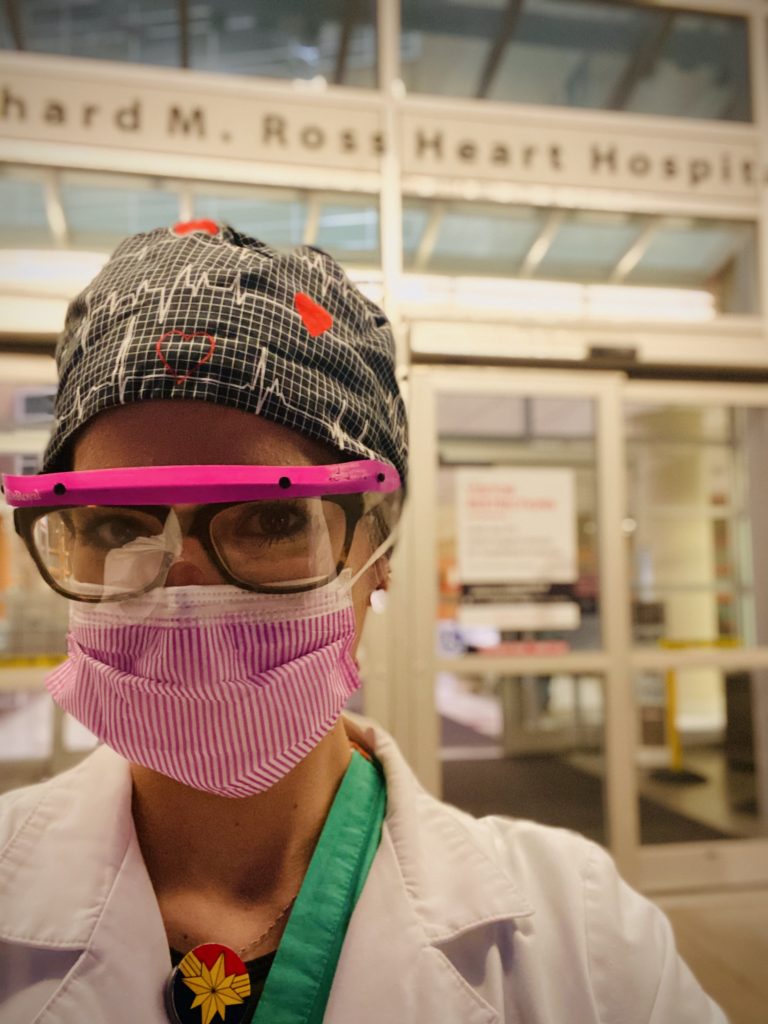 Antoinette J. Pusateri, MD
PGY-3 Department of Internal Medicine
President, Gold Humanism Honor Society Resident Chapter
OSU College of Medicine
#thisisourshot
"I want to tell and elevate our stories. Explain what our role is. Where we fit into this pandemic."—Antoinette Pusateri, M.D., 3rd Year Internal Medicine Resident, The Ohio State University.
That is what Antoinette Pusateri said to the interviewer when asked about her #thisisourshot series on The Ohio State Internal Medicine Instagram account offering interviews, photos, and vignettes featuring the residents and their daily lives at the Ohio State University Hospitals.
The hashtag title is borrowed from the HAMILTON song, "My Shot." The musical, according to Lin-Manuel Miranda, is about the fact that we only have one shot at life and everyone has something very important they can contribute and that path contains obstacles and setbacks.
I am not throwin' away my shot
Hey yo, I'm just like my country
I'm young, scrappy and hungry
And I'm not throwin' away my shot." (Hamilton, "My Shot", lyrics continue…)
Antoinette completed four episodes for the Instagram page that she was very excited about. "The residents just received their COVID vaccines and the interviews are raw and real. Two of them are a couple who are on the frontlines, one OBGYN and the other one Internal Medicine. They talk about how they help each other through," Antoinette said. Another advantage of the popular Instagram site is to clear up misunderstandings about what residents actually do.
The interest in storytelling, narrative medicine, and broadcast journalism started with her parents, both high school teachers/coaches. "They emphasized the importance of the arts and I dabbled in everything. It was all about storytelling. When I was in high school I took an art history course in which our teacher Mrs. Rothwell offered insights into storytelling from unique perspectives," explained Antoinette.
"Medicine IS a combination of science and the arts," Antoinette believes, "and we are so lucky at OSU that art, professionalism, and humanism are all pillars of our medical curriculum."
Having this art outlet via Instagram has been a boon to Antoinette's own resilience. She said, "In February 2020, I was finishing the cardiac intensive care night team rotation working 80 hours a week. It was the hardest rotation, I thought, at the time. But then a number of us were headed out to breakfast and we glanced at the TV on our way out. That's when we first heard about the Coronavirus. My biggest challenge was actually yet to come."
Every burden, every disadvantage
I have learned to manage. I don't have a gun to brandish
I walk these streets famished
The plan is to fan this spark into a flame
Antoinette has been on the frontlines of COVID19 pandemic and saw how the most vulnerable among us became its first victims. The murder of George Floyd ignited Antoinette's outrage. She co-founded the "IDEA (Inclusion Diversity Equity and Advocacy) Council", an organization of OSU residents and fellows dedicated to addressing racial and gender disparities in medicine for patients and colleagues alike, so that people from all backgrounds feel included, respected, and celebrated.
Don't be shocked when your history book mentions me
I will lay down my life if it sets us free
Eventually, you'll see my ascendancy.
She feels the fatigue from her work with COVID patients but her concern is for others too. Her spiritual life anchors her and she makes kindness gestures such as her work with the Gold Humanism Honor Society during the holidays.
"My moral compass, developed through my faith and education, has always led me in a direction of pursuing works that inspire and create social equity and justice," Antoinette said. "In every phase of my life, as I learn more about history, injustices, and the world around me, my first priority is to work with others to be the change we seek. While we cannot change the world, we can change one person's world.
"Being on the frontlines of the COVID19 pandemic plus witnessing the racial injustices and imbalances of the underserved, my residency includes social justice initiatives."
I gotta holler just to be heard
With every word, I drop knowledge
"Here in the COVID and national crisis, it's like we are all in a big ocean storm with high waves," she said, "and I cannot see the others and whether they are sinking or swimming but I keep swimming and reaching out to them. I try to help by giving them voice to their self-sacrifice and work ethic. We have to help each other through this storm, there is sunshine on the other side!"
Patricia Wynn Brown
Writer and Performer
Medicine and the Arts Board
Author: ESSENTIAL STORIES: Medicine During COVID-19 and the Lives of Practitioners at The OSU Wexner
Medical Center