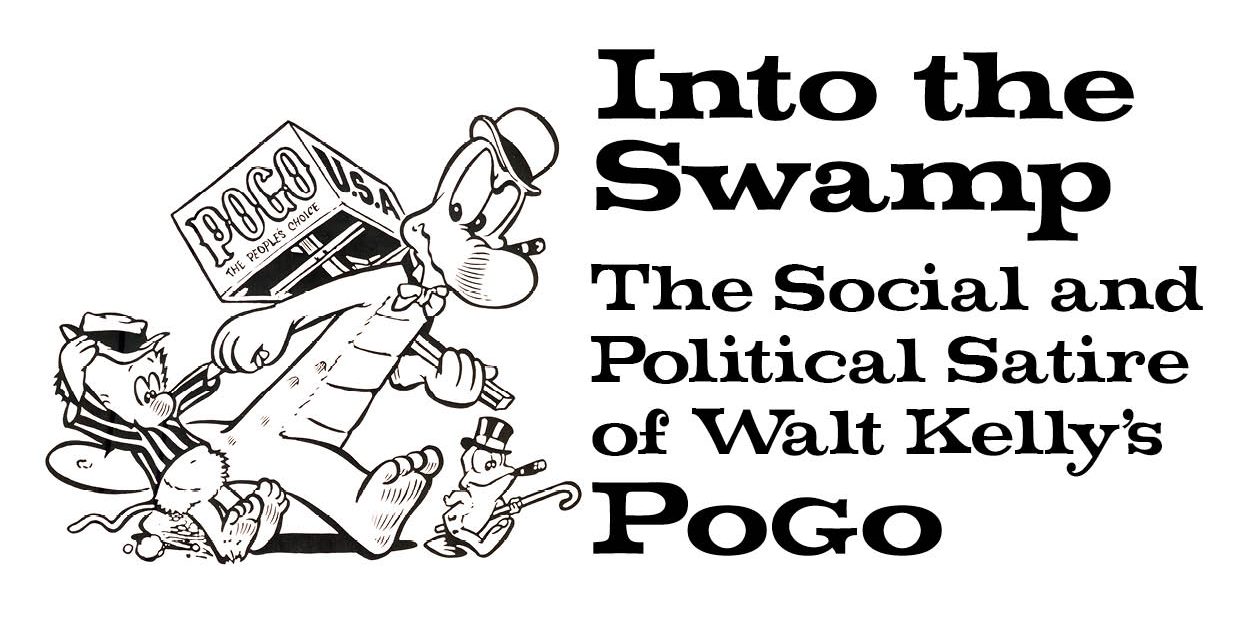 For Immediate Release:
January 13, 2021
The Ohio State University Libraries presents
Into the Swamp: The Social and Political Satire of Walt Kelly's Pogo
(Columbus, OH) – Into the Swamp: The Social and Political Satire of Walt Kelly's Pogo, an exhibition curated from the Billy Ireland Cartoon Library & Museum (BICLM) collections, showcases political satire and commentary using a motley group of swamp critters from Walt Kelly's newspaper comic strip Pogo. Into the Swamp is on view January 30 through October 31, 2021 with a temporary closing April 19 through June 11, 2021 at the Billy Ireland Cartoon Library & Museum. Admission is free.
Walt Kelly tackled many of the political issues of the world in which he lived, from McCarthyism and the Red Scare to presidential campaigns, civil rights, the environment, scientific exploration and consumerism. We celebrate Walt Kelly and his social commentary through the joyous, poignant and occasionally profound insights and beauty of the alternative universe that is Pogo. Working in the mid-twentieth century, Kelly drew on the legacy of earlier generations of newspaper cartoonists and then became a major influence on his successors.
This exhibition primarily features art and archival materials from the Walt Kelly Collection, which was donated to the BICLM by Selby Kelly. It also showcases artwork from the collection of Doonesbury cartoonist Garry B. Trudeau, which he generously donated to the BICLM in 2020.
Due to COVID-19, museum hours are limited and subject to change. Reservations are required, please visit cartoons.osu.edu/gallery-visit-reservation to book your visit.
_______________
About the Billy Ireland Cartoon Library & Museum: The Billy Ireland Cartoon Library & Museum (BICLM), part of The Ohio State University Libraries, houses the world's largest collection of materials related to cartoons and comics, including original art, books, magazines, journals, comic books, archival materials and newspaper comic strip pages and clippings. BICLM is located in Sullivant Hall at The Ohio State University, 1813 N. High Street, Columbus, OH 43210. Explore the collection online at cartoons.osu.edu.
About The Ohio State University Libraries: The Ohio State University Libraries aspires to be the leading research library advancing the educational, research and engagement missions of a public, land grant institution. University Libraries promotes innovative research and creative expression, advances effective teaching, curates and preserves information essential for scholarship and learning at Ohio State and shares knowledge and culture with the people of Ohio, the nation and the world. More information about University Libraries can be found online at library.osu.edu.