We recently finished processing the collection of underground cartoonist B.N. Duncan, and to celebrate we are featuring him on the blog today!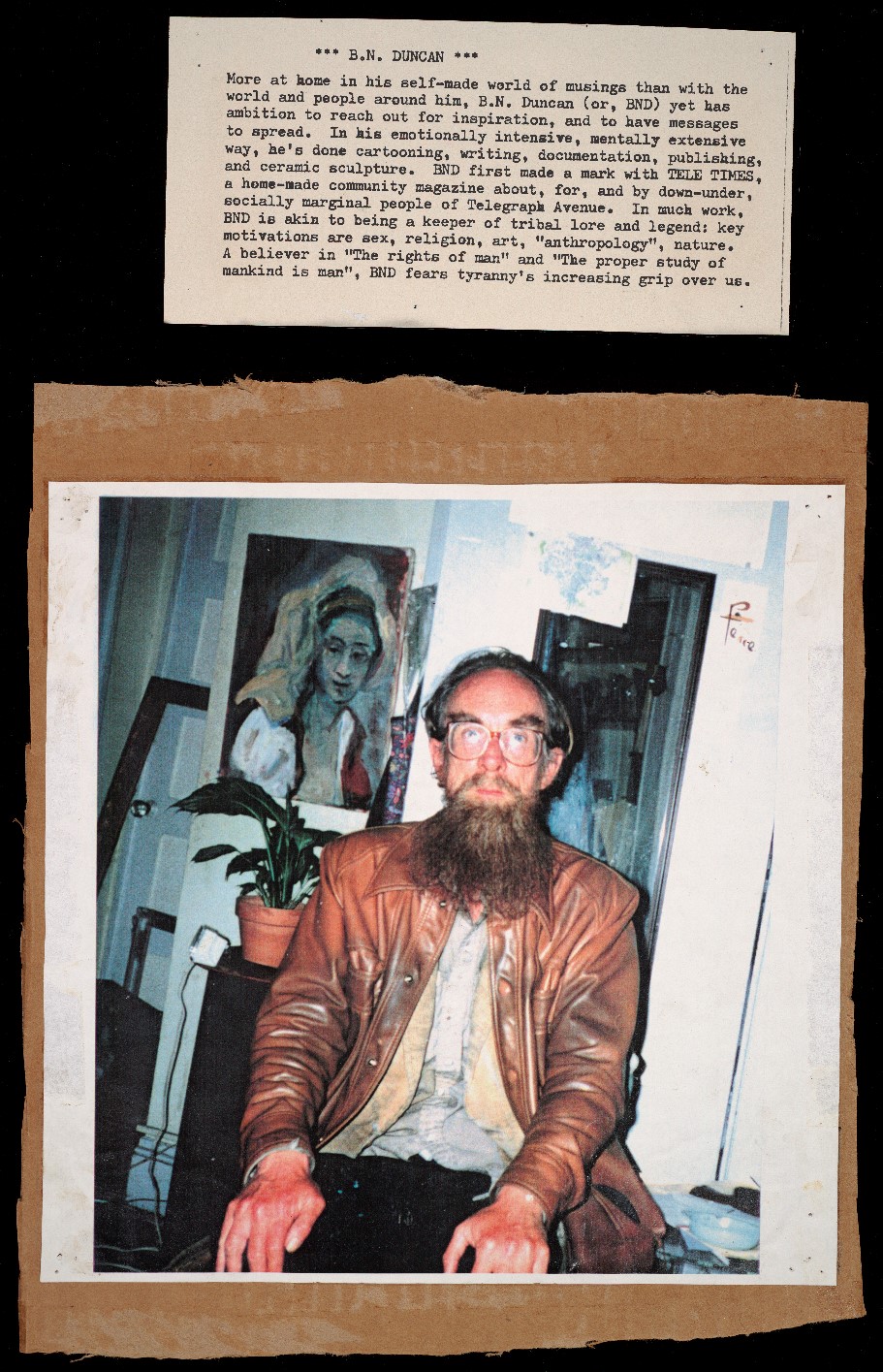 B.N. Duncan was born in Rochester New York in 1943. He grew up in Berkeley and Pasadena. As a child he had an avid interest in anthropology, paleontology and primates. In junior high school he acted in plays and drew for his school yearbooks. After graduation he attended Pasadena Community College but he suffered several mental breakdowns there. He returned to Berkeley in 1966 diagnosed with schizophrenia. Encouraged by his art teacher, Dick Warner at Vista Community College, he began cartooning in the early 1970s. He lived most of his life on Berkeley's Telegraph Avenue working as a cartoonist, editor and publisher. His full name was Bruce Nicholson Duncan but he preferred to be known as B. N. Duncan or just Duncan.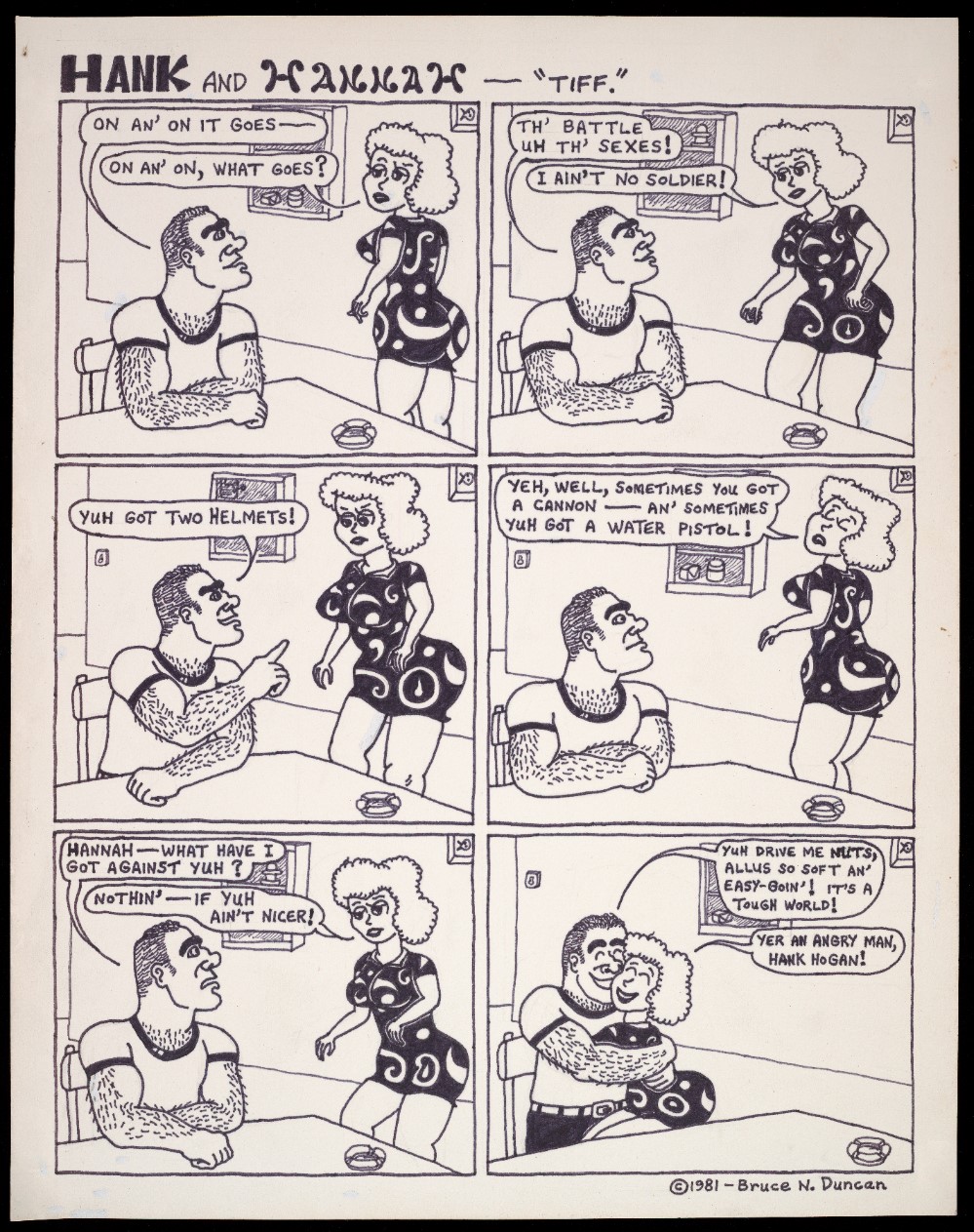 His first comic strip, 'Hank and Hannah', about a couple and their relationship, was published in porn newspapers and new wave zines. Another strip 'Berserkeley Blues' was published by the Berkeley Daily Gazette in the late 1970s and it was through it he met Telegraph Avenue street person Wild Billy Wolf. Wolf was working on a zine called 'The Tele Times'. Duncan collaborated with Wolf on early issues and provided art for its first cover in 1978. Duncan eventually took over the publication, making it his own vehicle to share his passions and interests and a way to celebrate the outsider art and writing he enjoyed. Duncan produced over 30 issues of 'The Tele Times' until it ceased publication in 1982.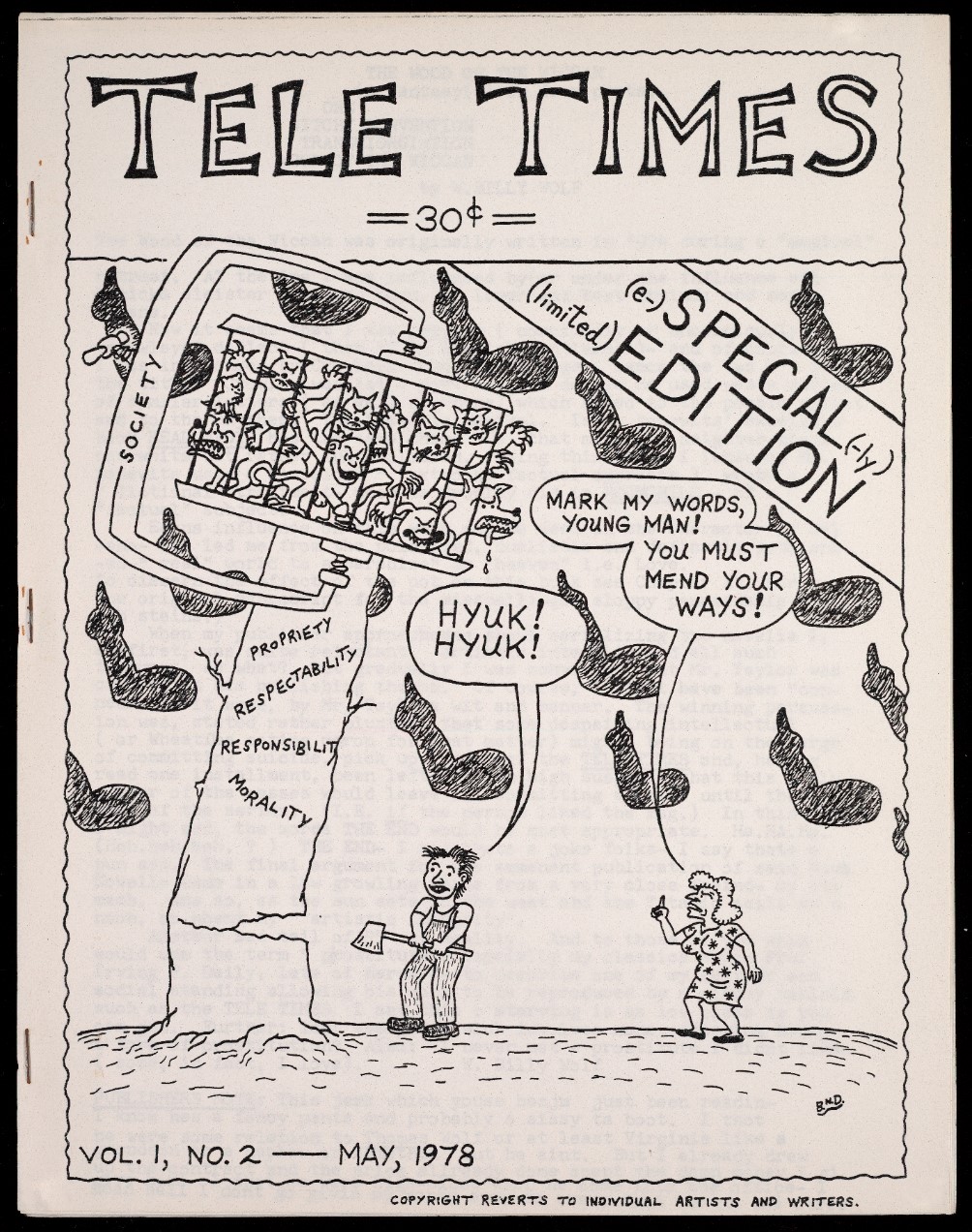 Duncan drew for the underground comics 'Weirdo' and 'Mineshaft' and he corresponded with a wide range of other underground cartoonists and writers including Harvey Pekar, Robert Crumb and Kim Deitch. Duncan drew heavily on this correspondence for the final issue of The Tele Times 'Here we go' #30.
He had a strong interest in sadomasochism and drew cartoons for 'Growing Pains' the publication of the San Francisco 'Society of Janus' as well as other S/M publications. He self-published the cartoon compilation titles 'Top Comedy and Bottom Burlesque', 'So be it' and 'Buttock's Blasting' and in 1995 he published a collection of S/M cartoons through Greenery Press called 'Mercy??''No!!'
In the early 1990s with the encouragement of the Berkley Friends Church he published two collections of spiritual cartoons called 'Nature and Spirit' and 'Seeking Vision'. His lifelong interests in anthropology, paleontology and zoology are evident in both these and in his experiments with clay sculpture. He was a frequent visitor to the San Francisco Zoo.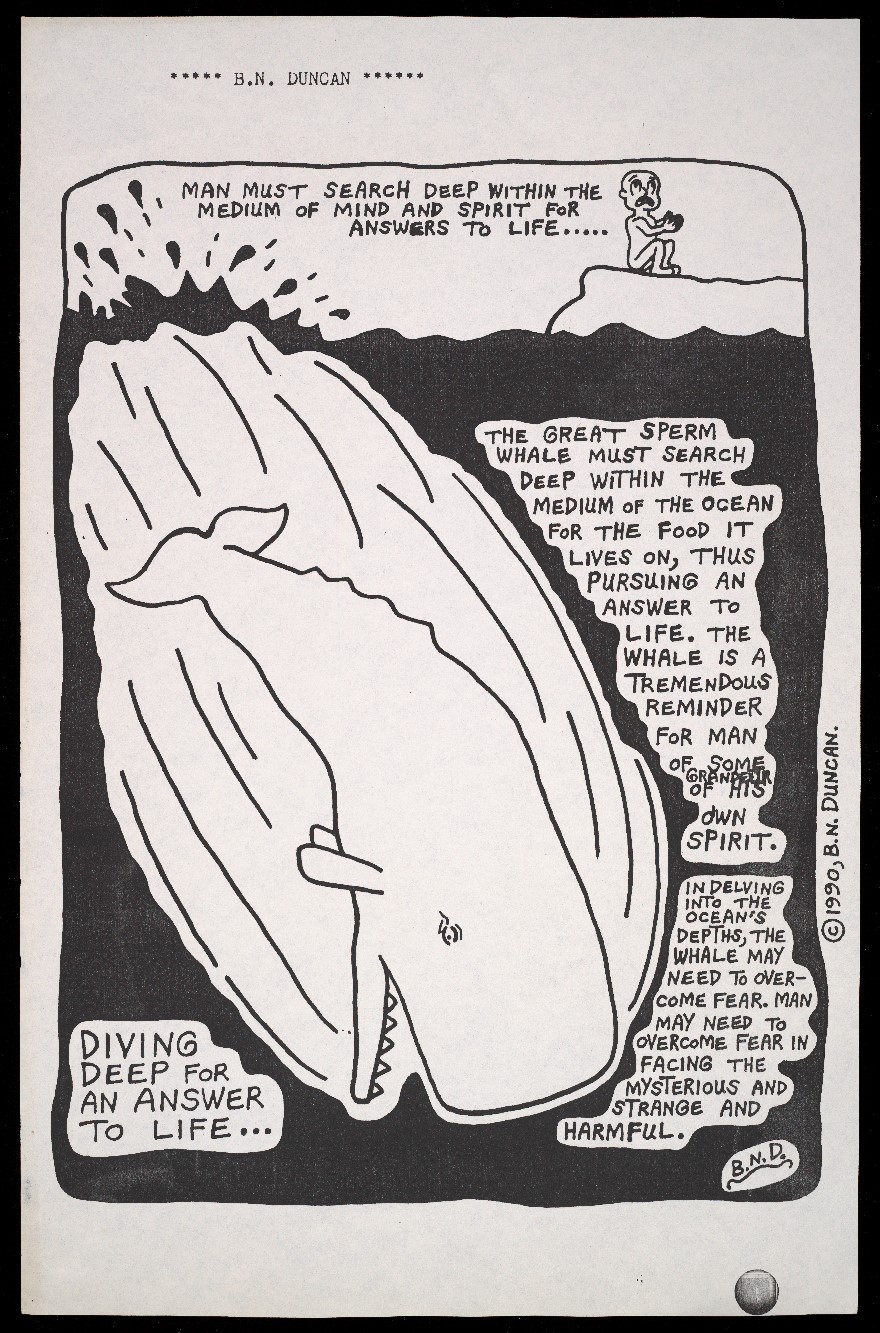 From 1990-2004 Duncan collaborated with cartoonist Ace Backwords to create an annual calendar called the 'Telegraph Avenue Street Calendar'. It featured Berkeley street people and the stories of the socially marginalized in and around Telegraph Avenue. Duncan took thousands of photographs of street people for the calendar and taped many interviews with the homeless, work he considered 'street anthropology'. Through both 'The Tele Times' and the 'Telegraph Avenue Calendar' he made enormous efforts to promote the art of outsider and street artists living in and around Berkeley. He believed that 'even people on a society's margin have something to contribute to its sensibility and spirituality'.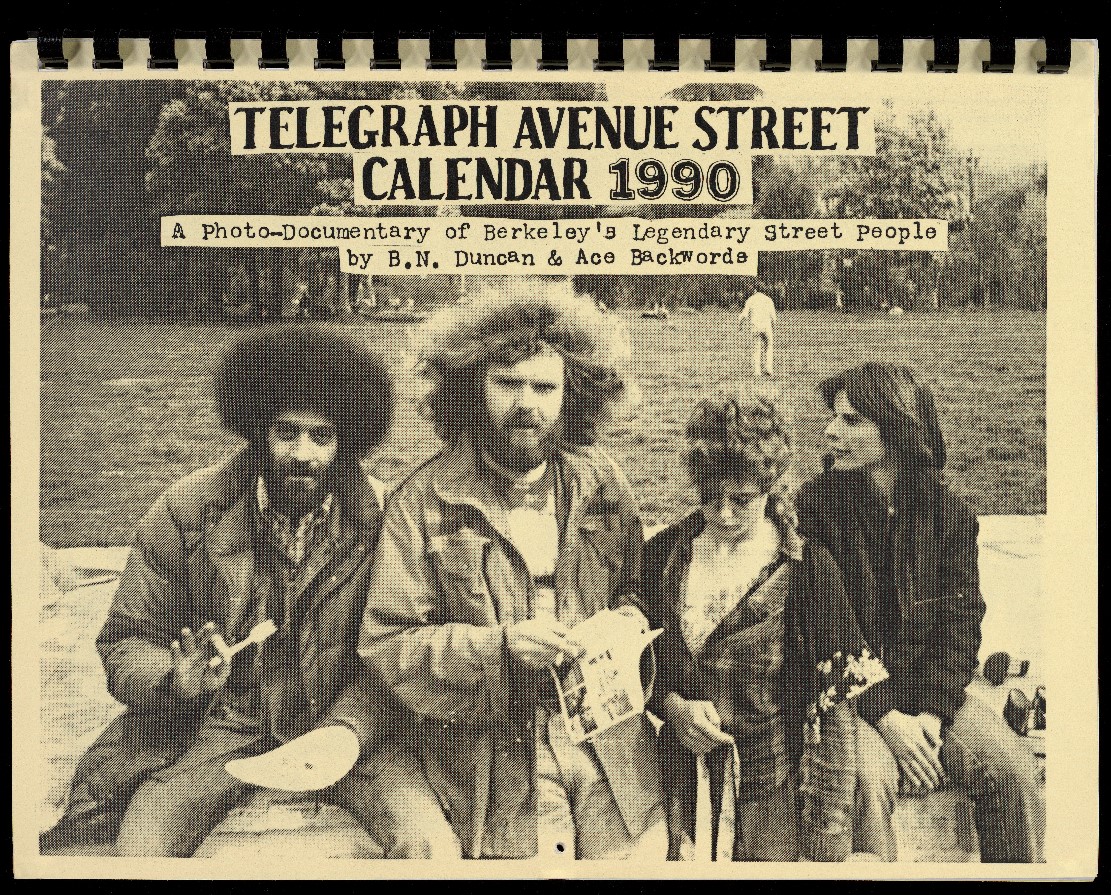 The B. N. Duncan collection represents a lifetime of work not only in underground comics and self-publishing but it also offers a snapshot of life on the street for the homeless and marginalized in and around Berkeley at the end of the 20th century. It includes Berkeley memorabilia, examples of street publications and eighteen boxes of Duncan's photographs of street people, some of which featured in the 'Telegraph Street Calendar'. The collection also contains Duncan's audio recordings which offer additional documentation of life on the sidelines of society in Berkeley at this time.  There are many examples of work by Berkeley homeless artists who Duncan helped and encouraged including 'Sparky', 'Cliff Mason' and 'Narayana' and the blown up photocopies he used for an exhibition he collaborated on with Ace Backwords called 'Artists on the fringe'.
The calendar ceased publication in 2004 and Duncan's suffered ill health in his final years. He died in 2009 aged 65. We would like to thank Duncan's sister Elaine and his friend and fellow cartoonist, Ace Backwords for their donation of Duncan's work to us and for their advice and help in processing the collection.
-Ann Lennon, Archives Associate, Billy Ireland Cartoon Library & Museum