Behind the scenes at the Billy Ireland Cartoon Library & Museum we are working hard to improve access to our archival collections. On the blog today we would like to share some gems from the Nicole Hollander collection, one of the collections we recently finished processing and one we are privileged to have here.
For those unfamiliar with Nicole Hollander, she is a Chicago native and one of our most important women cartoonists. Her long running strip Sylvia commented with acerbic wit on political, gender and social issues (plus what it is like to live with a cat) for over 30 years from the late 1970s until Hollander 'retired' Sylvia in 2012.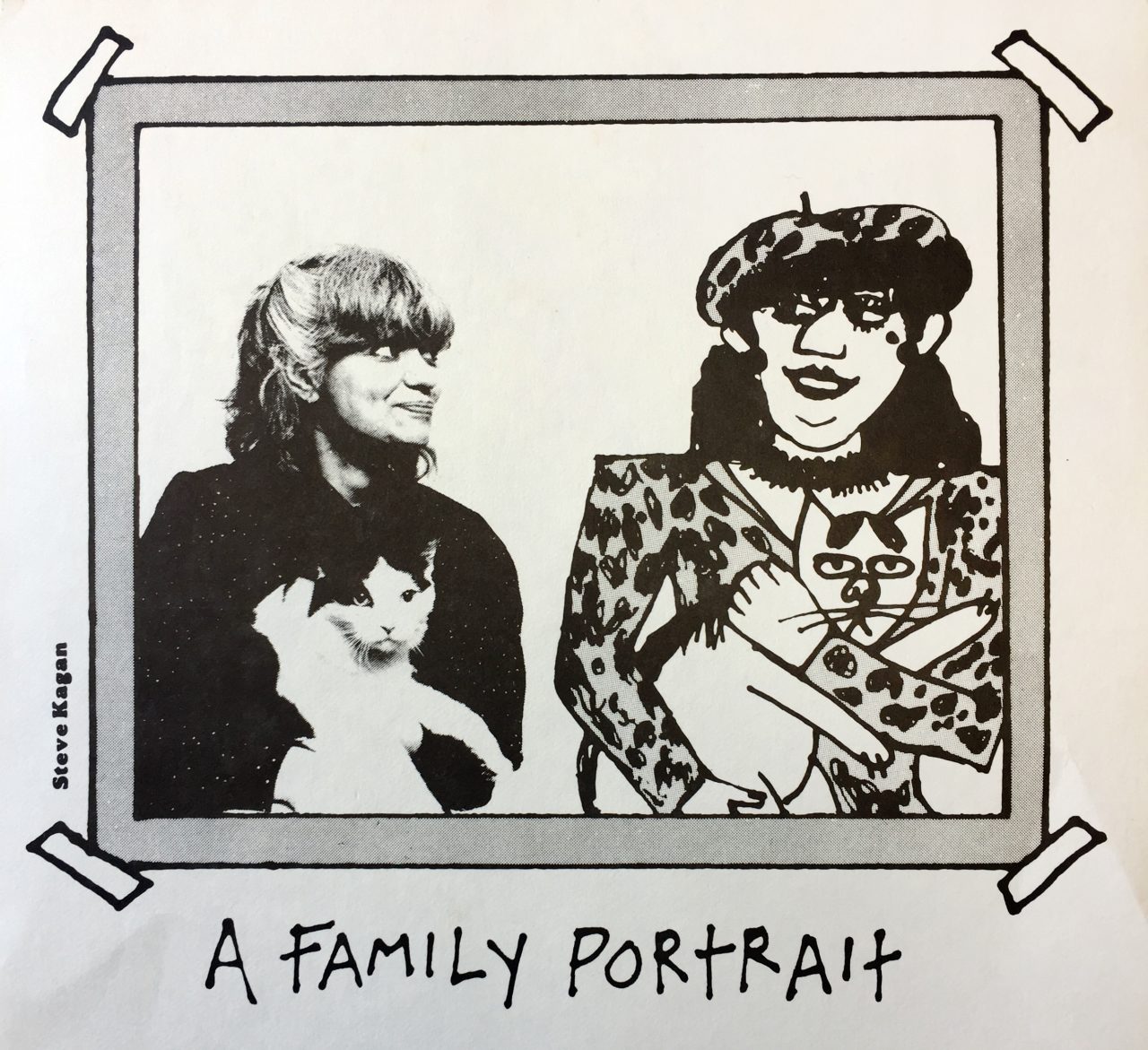 Nicole Hollander studied art at the University of Illinois Urbana Champaign and later at Boston University. For many years she ran a successful graphic design company in Chicago and it was as graphic design director for the feminist publication The Spokeswoman that she started to experiment with cartoons and the comic strip form.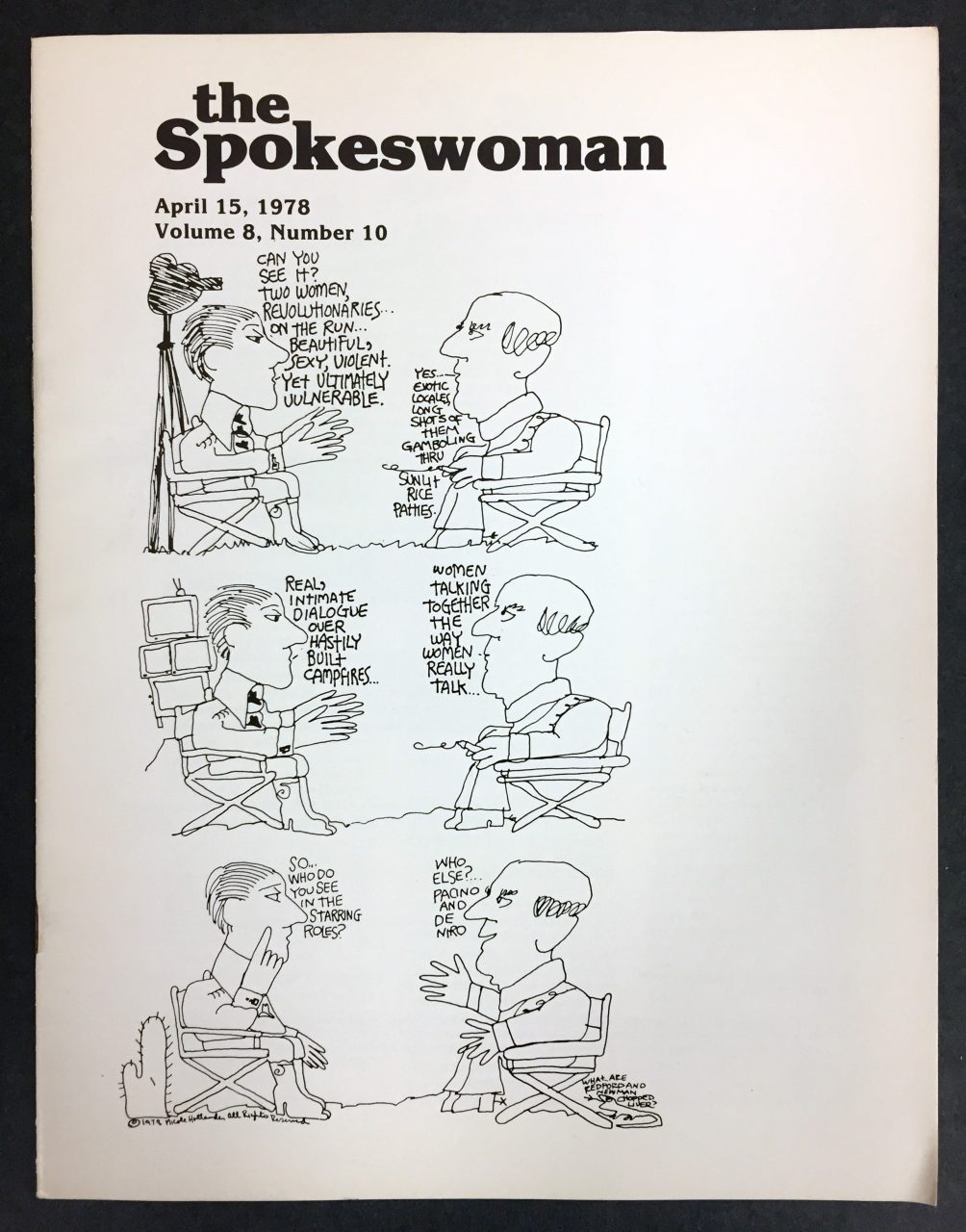 St. Martin's Press quickly picked up on Hollander's singular voice and published a collection of her cartoons in 1979 as I'm Training to be Tall and Blonde. The book's success led to Sylvia being syndicated as a daily by Field Enterprises in 1981. It wasn't long though before the fiercely independent Hollander decided to self-syndicate and by 1997 she had the strip running in over 80 daily and weekly newspapers across the US and internationally, so not only was she drawing the strip daily but she was also handling all the syndication and the correspondence and admin that entailed.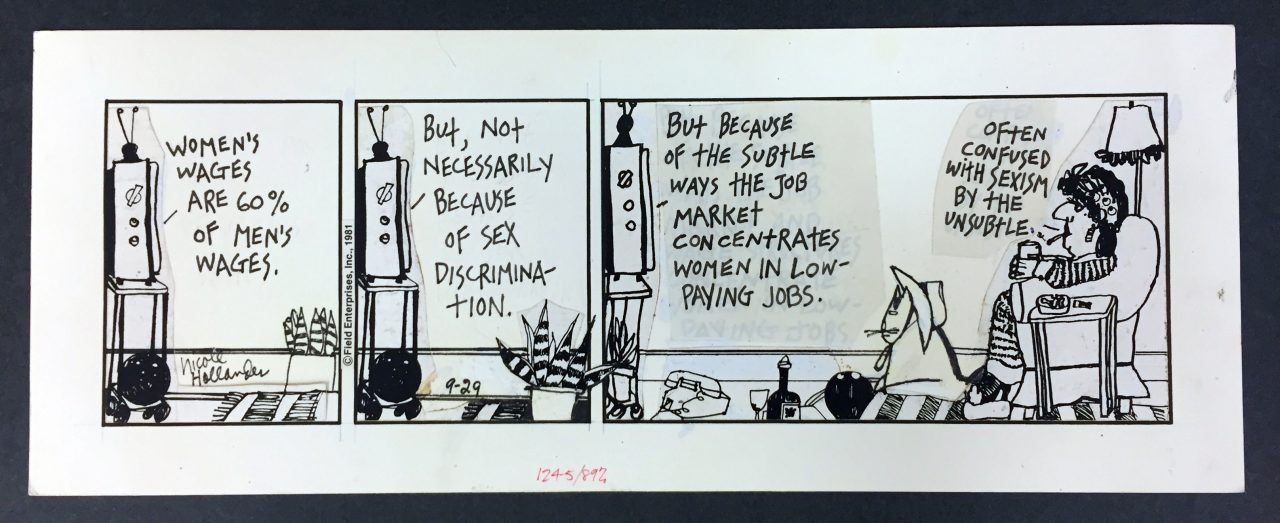 Sylvia delivered witty and wise observations and advice on anything and everything related to life in America in the late 20th century, sometimes in a conversation with her television or maybe while smoking and typing from her bathtub. Sylvia's unapologetic feminist voice stood out amongst the other strips appearing on the funny pages and the strip soon had a cult following. Fan letters tell how much readers looked forward to starting their day with Sylvia and how it was the first thing they looked for in their morning newspaper.
The Billy Ireland has a complete collection of the original art for Sylvia plus proofs as well as all of Hollander's book compilations. We have examples of Hollander's early graphic design work, sketchbooks, her illustration and work for other publications as well as all of her correspondence and fan mail.
It's hard not mention Hollander's love of cats and her cats appear so often in all of her work. They are always wise and witty cat and ultimately you know that they are the ones who are in charge.

Hollander used Sylvia, her cats and many of the many other character that appear in Sylvia for a collection of greetings card work which she designed for Maine Line and Recycled cards. These were ahead of their time offering a welcome alternative to the saccharine mainstream card selections on offer from the big card companies.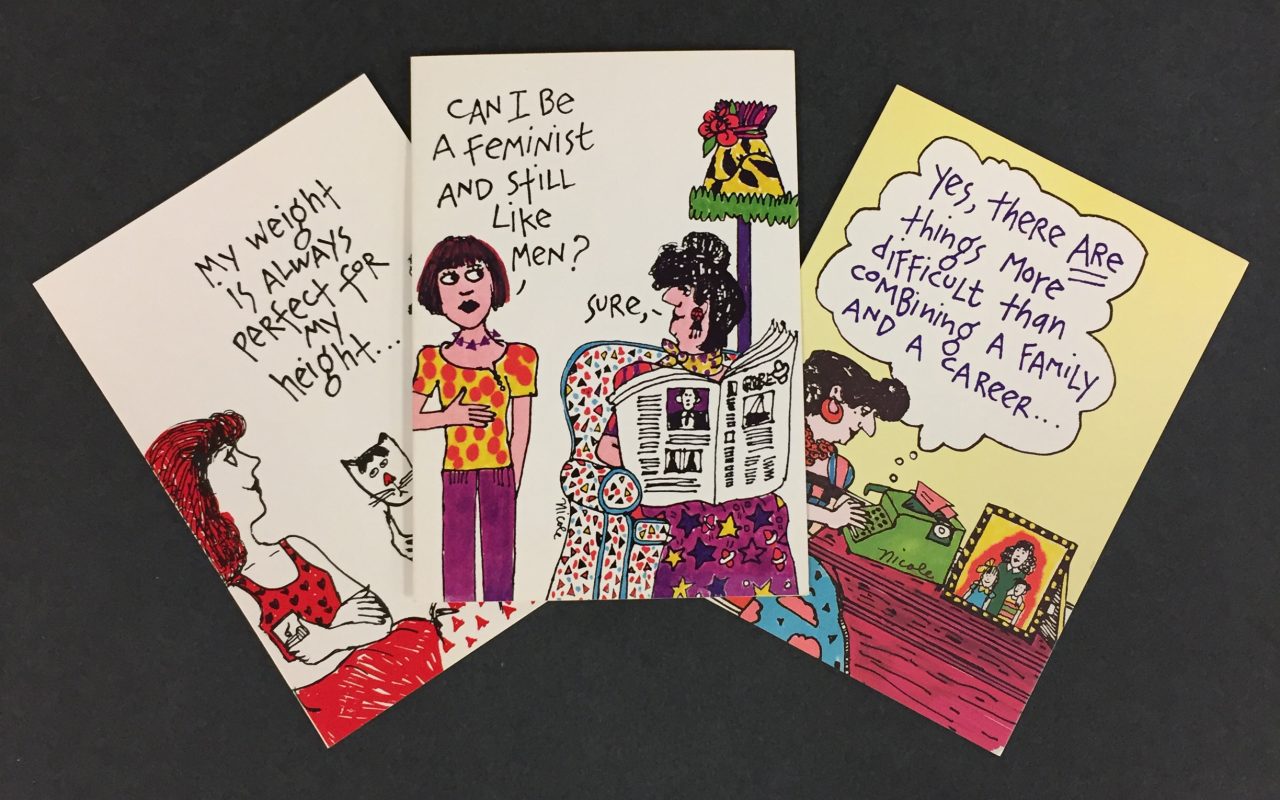 Hollander worked to support many feminist causes and she also drew for publications such as Mother Jones where the cartoons did not always feature Sylvia. She toured, spoke and led workshops and classes and corresponded with and encouraged many fledgling cartoonists, including a young Alison Bechdel.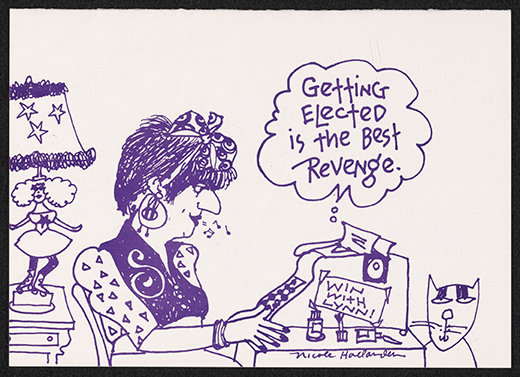 Sylvia became a theatrical production when in 1991 it was produced as Sylvia's Real Good Advice in Chicago. This is the fabulous bathrobe worn by the actress who played Sylvia for the show: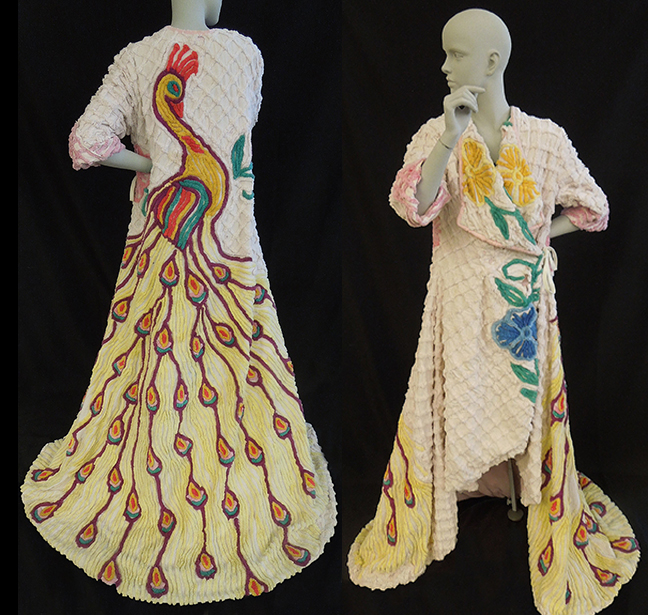 Glancing through the strips it is obvious to see how 'Sylvia' was the voice of a woman who wasn't afraid to speak her mind and a hero to generation of women who relished in and celebrated her outspokenness. As the novelist Sara Paretsky pointed out 'There are precious few women cartoonists, and Nicole is the only one with a daily strip who presents the believable struggles of women in contemporary society' and as Alison Bechdel recently wrote in the introduction to Hollanders' newest publication 'We ate Wonderbread'…'Sylvia is not technically a superhero, "she was a heroine to me and she certainly possesses powers far beyond those of mere mortals' and of Hollander herself she wrote that she was one who "paved the way for later generations of women cartoonists".
The Nicole Hollander Papers has a finding aid, or inventory and can be found here, and all of the original art for the Sylvia strips are listed in spreadsheets here, and some additional images can be found in our image database.
-Ann Lennon, Archives Associate, Billy Ireland Cartoon Library & Museum