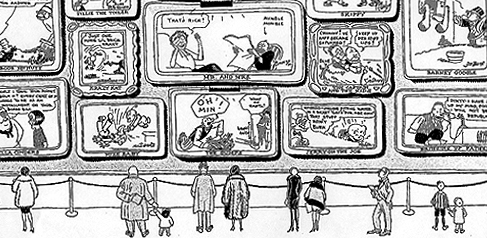 Please join us this Friday, April 12th from 5-7pm at The Billy Ireland Cartoon Library & Museum where we will be opening up our doors to the public for a free open-house event to coincide with the 2013 Small Press and Alternative Comics Expo (SPACE).
Enjoy the gallery exhibition A. B. Walker's World, along with behind-the-scenes tours of the library stacks and a display of treasures from our collection, including original art from Jeff Smith's "Bone", Winsor McCay's "Little Nemo in Slumberland", Bill Watterson's "Calvin and Hobbes", Frank Miller's "Daredevil", Jack Kirby, Walt Kelly, P. Craig Russell, George Herriman, and so many more!
This will be the last chance for a backstage look at our current facility before our big move into Sullivant Hall this summer. Hope to see you there!
For information on parking and locating the Cartoon Library, please see our Visit Us page.