In 2006, a phone call came to the Cartoon Library for curator Lucy Caswell  from a local business woman asking that Lucy take a look at some old cartoon drawings she had found. When the woman arrived the next day with a shabby, portfolio-sized cardboard box, no one could have guessed the magnitude of the discovery she had made in the back of her grandfather's old shop.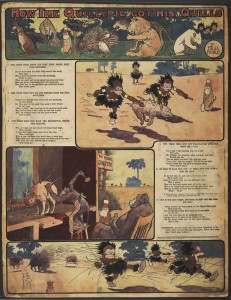 Inside, were eleven large original Winsor McCay drawings of his comic feature The Tale of the Jungle Imps. Unlike the originals from McCay's other strips, all eleven of the Jungle Imps were fully and beautifully hand-colored with watercolor. This was McCay's very first color newspaper comic strip–and until the discovery of these eleven pages–no other originals were known to have survived. Over 100 years after the 1903 debut of Jungle Imps in the Cincinnati Enquirer, it's nothing short of a miracle that these originals would resurface in the one city in America with an academic research library devoted entirely to printed cartoon and comic art.   The Billy Ireland Cartoon Library & Museum acquired five of the eleven originals, which joined the rest of our extensive McCay collection including original Gertie the Dinosaur animation drawings, Little Nemo In Slumberland originals, and newspaper tear sheets of McCay's comic strips and editorial cartoons.
The Tale of the Jungle Imps was a collaboration between McCay and George Randolph Chester, who wrote the rhymes for each comic under the pseudonym "Felix Fiddle." The premise was a spoof on Rudyard Kipling's Just So Stories, published the previous year. In each Jungle Imps episode, we are presented with an origin story about how a particular animal came to acquire its unique characteristic.  Each animal falls prey to the teasing of the three jungle imps: Boo-boo, Gack, and Hickey, until it receives a physical feature that helps it defend itself.
In the excerpt highlighted here from How The Quillypig Got His Quills,  the story explains that quillypigs (*porcupines) once had colorful quills made of the most delicious candy. Of course, the imps could not resist chasing the pigs around to pull their candy-quills out and eat them. When the quillypigs could no longer take the torture, Verse 4 "Tells How One Well-Plucked Quillypig Went For A Gun."  Lucky for our jungle imps, the quillypig ended up before a very clever gunsmith, "Mr. Monkey", who instead suggested a replacement coat of sharp quills with springs on the end to teach the imps a lesson.
To see our complete collection of Winsor McCay's Jungle Imps in more detail, please check out our Jungle Imps Digital Album!