Loose Women in Tights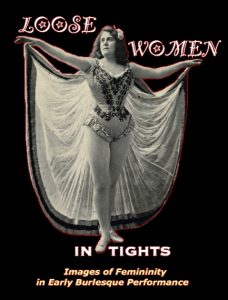 This online exhibition draws from the Charles H. McCaghy Collection of Exotic Dance from Burlesque to Clubs, part of the holdings of the Jerome Lawrence and Robert E. Lee Theatre Research Institute at The Ohio State University. Dr. McCaghy is professor emeritus of the Department of Sociology at Bowling Green State University, known for his research and publications with Dr. James K. Skipper, Jr. on stripping and social deviance.

The Collection of Exotic Dance from Burlesque to Clubs, donated to the Lawrence and Lee Institute by Dr. McCaghy, contains a wide variety of materials – including books, photographs, periodicals, sound recordings, promotional materials, videos, personal notes and interviews, and other assorted memorabilia – spanning from the mid-nineteenth century to the present day, and exploring all aspects of striptease in performance. This exhibit is meant to provide just a sampling of some of the earlier materials in the collection, contextualized within the historical and theoretical discourses surrounding burlesque.