How did the university get to such a milestone? Well, the university's origins lie in two pieces of legislation. The first is the Morrill Act, passed in 1862, which allowed states to sell federal lands creating endowment funds for university instruction in agriculture, mechanical arts (now known as engineering), and military science. The second milestone came eight years later when the Cannon Act was passed into law in Ohio. This law, proposed by General Assembly member, Reuben P. Cannon, established a brand-new university: the Ohio Agricultural and Mechanical College. This college became the university that we all know and love, The Ohio State University.
Today we are looking back on the proud history of Ohio State but we are also looking to our future. In fact, our near future holds a very special celebration of the university's sesquicentennial, or, 150th anniversary. The sesquicentennial celebration will span the academic year of 2019-2020 and will honor all that Buckeyes are, all we have accomplished and all that is yet to come.
The sesquicentennial celebration will include signature programming, marquee programs and department events. The signature programming will include projects such as: "The Carmen Collection," a look into the untold stories throughout Ohio State's history; Time and Change: The Ohio State University at 150, a photographic retrospective book; and "Buckeye Biography: Celebrating 150 Years of Ohio State," an online course, open to all Buckeyes, taking students through the history of the university.
In addition to these exciting programs, join fellow Buckeyes for the Sesquicentennial Weekend March 19-22, 2020, for a series of celebratory activities, including a kickoff event in Thompson Library.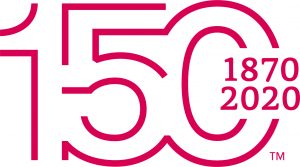 The sesquicentennial presents a great opportunity to honor the past, celebrate the present and prepare for the future. We hope next year you'll join the university's global celebration of 150 years!
To learn more about the sesquicentennial, visit 150.osu.edu.