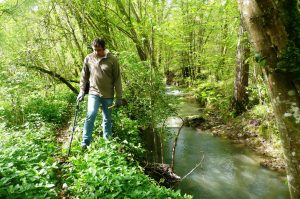 Last spring, the University Archives was contacted by Stephane Renner, a Frenchmen, who said he had discovered an American Soldier's World War II dog tag while metal detecting in the Rosny sur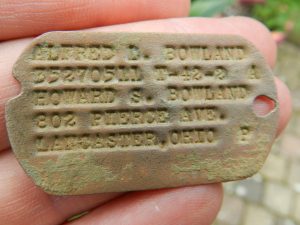 Seine forest in northern France.  Renner hoped the Archives could assist him in tracking down the soldier's family, so the identification tag could be returned to them.  While the Archives staff typically handles only requests that involve the University, the staff felt compelled to help Renner find the soldier's family.
Attached to Renner's email was a photo of his find: a rusted dog tag that had weathered almost 75 years underground.  Engraved on the tag was the soldier's name, "Alfred D. Bowland", and his emergency contact, which was listed as Howard Bowland (which we later found out was his father).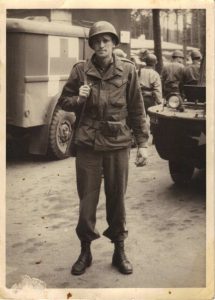 In an effort to find the family, Archives staff utilized Ancestry.com, and also searched through censuses, war registration cards and city directories.  Staff soon discovered that Alfred Bowland enlisted December 9th, 1941, as a result of Pearl Harbor. Bowland survived the war, got married 1947 and had three children.  He passed away in 1995 at the age of 80.
The Archives staff located Alfred's son, Roger Bowland, to share the news about the identification tag recovered in France.  Soon after, the men in Ohio and France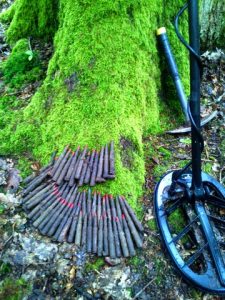 were introduced and connected over the newly discovered dog tag.
Renner sent Bowland the dog tag, along with a coin purse, ammunition and a ration of lemon powder that he also found next to the tag.  In exchange, Bowland sent Renner a photo of his father during his time in the war. Renner keeps the photo on the mantle to remind him of the find.
Veteran's Day reminds us to thank all military personnel, like Alfred Bowland and his family, for the service and sacrifices they have made for their country.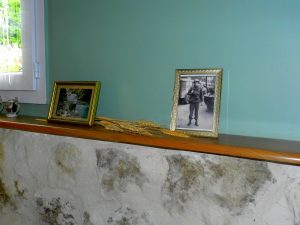 The Archives also is thankful to Stephane Renner and Roger Bowland for keeping us informed on their story and keeping history alive. A special thank you to Stephane Renner for his dedication to returning historical material to its rightful owner.