As part of Archives Month we would like to honor some special guests who visited us last August to learn a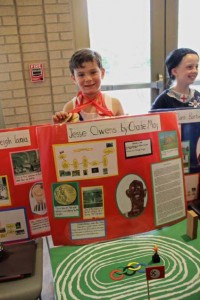 little bit more about Jesse Owens and see his collection.  Charlie May and his grandparents, Honey and
Chuck Goldberg came from Denver to our Archives to see firsthand the artifacts, documents and photographs we have.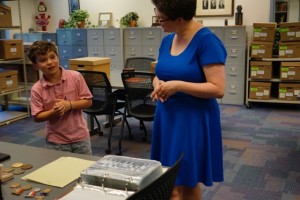 Last year for a biography project at his elementary school, Charlie chose to do research on Jesse Owens.  He dressed up as Jesse and presented a project about his life and accomplishments.  The Goldbergs have a tradition of taking each grandchild to see the papers and artifacts of the individual the grandchild chose for their biography project.  Charlie is the Goldberg's fourth and youngest grandchild.  They planned a trip he was sure to enjoy!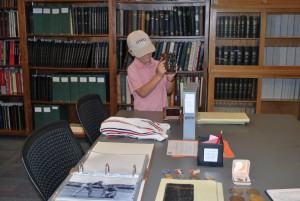 First stop was to Columbus.  Here at the Archives, Charlie and his grandparents met with University Archivist, Tamar Chute, who introduced them to Jesse Owens' artifacts and papers from the 1936 Berlin Olympics.  Charlie got to see the camera Jesse took to the Olympics, his sweater, his diary entries and most importantly, Jesse's gold medals.  The visit concluded with a tour of the stacks, where all the boxes are kept.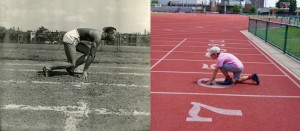 After their trip to the Archives, Charlie and his grandparents went to see the Jesse Owens Memorial Stadium complete with a photo next to Jesse's statue and a run on the track! Charlie took the starting position, just as Jesse had on Ohio Stadium.  They also visited with Brutus in the Union and took a trip to the Orton Geological Museum where Charlie got a tour from Museum Manager Dale Gnidovec.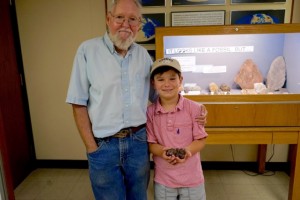 Charlie's trip did not end there. Next stop was Chicago where they were able to meet with Marlene Owens Rankin, Jesse's daughter, and her husband Stuart Rankin.  It must have been a memorable meeting for them both.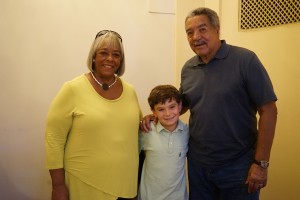 Charlie gave us a wonderful thank you note that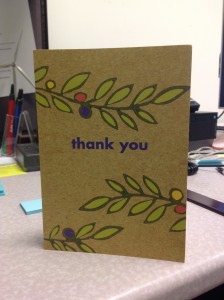 reminded us about the importance of keeping and preserving the historical document for future generations.  We would like to thank Charlie and his grandparents, Honey and Chuck, for their interest in our Jesse Owens Collection.