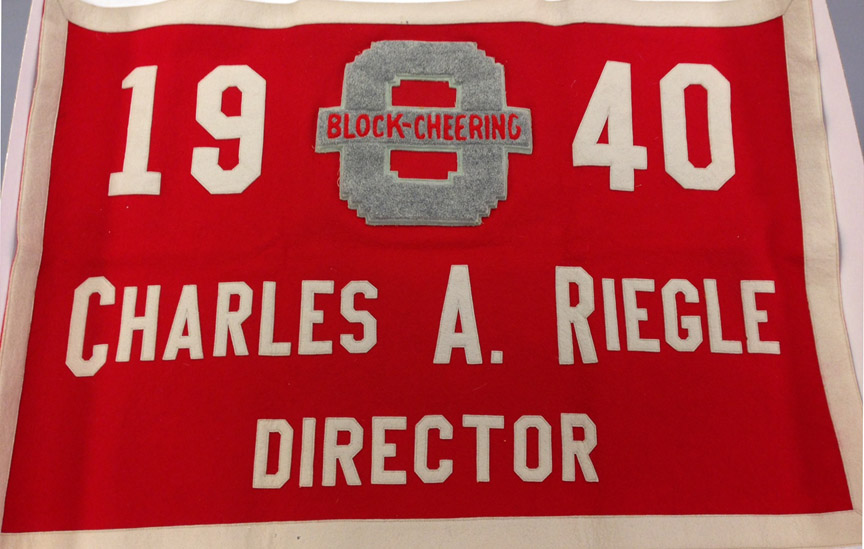 Recently, the Archives received a scrapbook, a Varsity sweater, a Block "O" banner and several other items from the family of Charles Riegle, a student who earned a bachelor of science degree in Agriculture in 1941. Not only are we excited about this very kind donation because of the cool artifacts we received, but because we learned about this extraordinary student who truly was a man of many talents.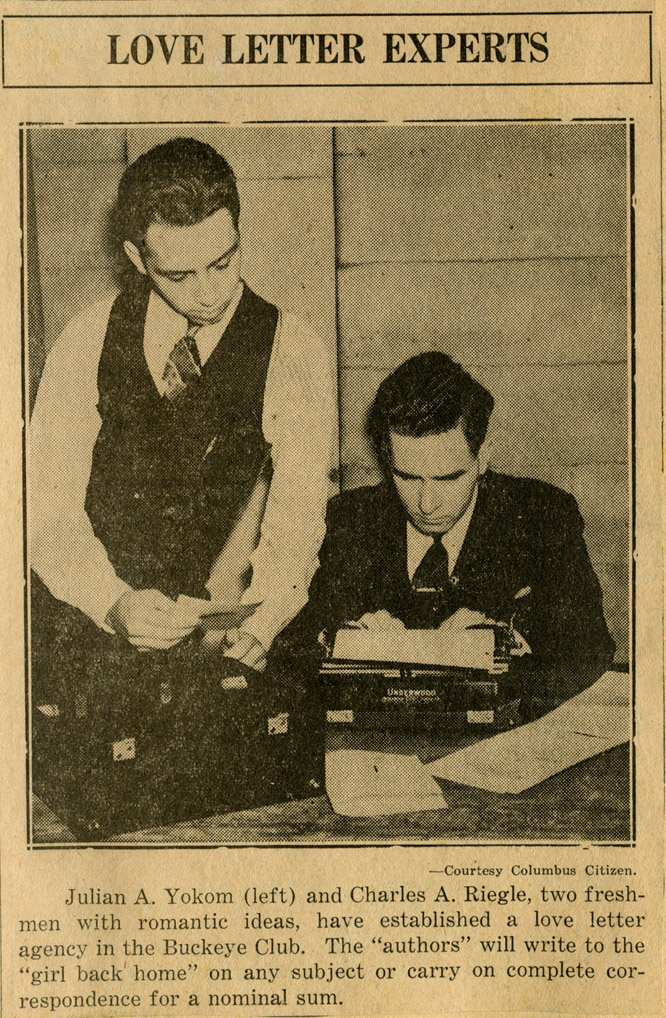 First, there was the letter-writing business he started with a friend in order to make money for school. Today, letters written home or to a significant other or even a family member are a rarity since communication mostly relies on texts, sometimes emails, and if you're lucky, a phone call. Back in the 1930s, though, letter-writing was a prime means of communication. Some students, though, apparently were too busy to write home, so Riegle and a friend started a business writing letters for them. While clients had to supply their own stamps, Riegle and fellow freshman Julian A. Yokom charged 10 cents per 50 words. Riegle and Yokom's motto was, "Give Us a Chance and the Girl Back Home a Break." While some customers wanted letters written home to "doting parents," most preferred a letter home to a sweetheart. And in that department, Riegle and Yokom might even use their word expertise to "break off relations with a girlfriend tactfully but don't know how to do it," according to a 1938 Lantern article on the pair.
In addition to his letter-writing business, Riegle also was a member of the OSU Cheerleading Squad, The Buckeye Club, the Men's Dormitory Association and Gamma Sigma Delta, an honorary society for agriculture students. Being a member the Buckeye Club actually meant that Riegle lived in the Stadium Scholarship Dorms, which at that time were for male students who couldn't otherwise afford to go to college (hence, the letter-writing business).
And of course, he was a very dedicated member of Block "O." During the 1938-39 academic year, Riegle became Junior Manager of the Cheering Section and by the following year became Manager. Riegle managed three juniors, six sophomores, and six freshmen, while the cheering section had a total of roughly 1,200 men and women wearing scarlet capes against a grey background to create the impression of a block "O." Each person would participate in different cheers while holding up different colored cards and singing along to certain songs and yells. There were 30 designs and 10 were used in a single game. By the end of the season, 3,000 cards were used. For his role as manager, Riegle received a Varsity "O" sweater in 1940.
Riegle's energy and management skills served him well after his time at OSU: He joined the military and served in three wars: World War II, the Korean War, where he worked after the war on the establishment of the De-Militarized Zone between North and South Koreas; and the Vietnam War. He retired in 1968 as a U.S. Army Colonel and died several years later.
We very much appreciate the kind donation made by Dwight and Mary Helen Tuuri of the materials once owned by Riegle. It is because of people like the Tuuris that we have such wonderful stories to tell about OSU history, so we thank them very much!