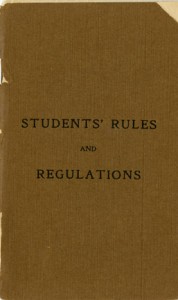 President William Oxley Thompson's foreword to the 1906 edition of Students' Rules and Regulations reads as follows:
This little book is printed for the convenience of student in order that they may know the rules and regulations in which they are interested as a matter of guidance.  The book will be published annually with such revisions as are made from time to time.  Students are requested to keep this as a matter of reference.  Its intelligent use will save the time of the student and of the University officers.
This "little book" does indeed contain many guidelines for students at the time.  Many are similar to current policies, as evidenced by the following rule from the 1906 edition:
Use of Tobacco Prohibited

The use of tobacco in any form in the lecture rooms, halls, corridors, doorways, stairways, laboratories and libraries of the University is prohibited.
But many reflect the changes that have taken place on campus in the past century. For example, the University has grown considerably since 1906, when the student population barely topped 2,000 and the President had considerably more interaction with individual students:
Living Arrangements

The President shall have authority to supervise the living arrangements of students not residents of the City of Columbus, and to order the immediate withdrawal of any student from any boarding or lodging house in which he deems the surrounding are undesirable.

Excuses for Absence:
All absences of individual students from the city, for any purpose, involving absence from college exercises, must be accounted for to the President; and in all possible cases permission must be previously obtained.

Excuses will not be granted for absences of more than two weeks' standing, unless the absence has been continuous.
Another significant difference in rules from years past is the role of the Department of Military Science. The Morrill Act of 1862, the legislation that paved the way for land grant colleges like The Ohio Agricultural and Mechanical College, decreed that "the leading objects [of these schools] shall be, without excluding other scientific and classical studies, and including military tactics, to teach such branches of learning as are related to agriculture and the mechanic arts." According to the 1906 Rules:
All able bodied male students under 25 years of age at date of first entrance into the University or of any re-entrance after one year's attendance at, and one or more years' absence from, the University shall be required to report to the Military Department for service at the first regular drill hour. Each student will be required to drill three hours per week for two years, during the first two years of his attendance at the University.
In our next blog post, we'll show you some of the revisions that were made over the years and reflect the changing times on campus.