(Editor's Note: This post is part of a series of profiles of life-long Buckeyes who have had a notable impact on the University. In other words, they bleed scarlet and gray.)
Drake Union, which was dedicated 39 years ago this week, (See OSU Archives' Facebook page) was named after Edward S. Drake, known affectionately as "Beanie" Drake. He was the manager of the first Ohio Union (now Enarson Hall) when it opened in 1913, and he served in that capacity until his retirement 33 years later, in 1946. However, Drake's involvement at OSU went far beyond his role as a business manager.
From 1936-1946 he supervised the ballot counting for all campus elections, including Homecoming Queen and USG elections. For 11 years he bought all of the food and planned the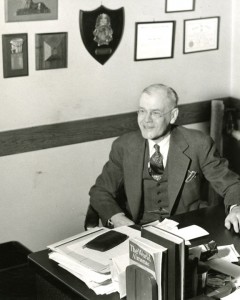 menus for the Ohio Union cafeteria, as well as Scholarship Housing (the dorms formerly housed in the Stadium), and for many years the football camp. He served as advisor for as many as 11 student organizations at any given time, and kept financial records for many even after his retirement. He helped to found Romophos, the sophomore honorary society, as well as Ohio Staters, Inc., of which he was a life-long member. But even beyond that he was known as a friend and counselor to generations of students. His kindness, generosity of spirit, and sound advice led many students to think of him as a father figure or a "father confessor."
Upon his retirement, the Ohio Staters gave him the gift of a silver baton, to replace the pencil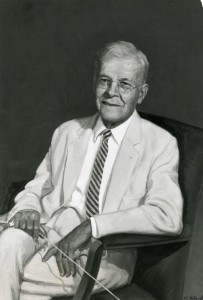 that he always used when conducting "Carmen Ohio," which he did quite frequently. (He was very strict on the tempo of the piece, because he said that to play it too slow made it sound like a dirge.) His portrait hung in the Ohio Union for many years, and in his hand is that silver baton. A collection was taken up to pay for the painting, and it raised $2,000 more than was necessary. That money went on to establish the Beanie Drake Scholarship Fund, which is still awarded annually.
In 1958 Beanie received a Distinguished Service Award, to honor his many contributions to the University. Beanie passed away on March 23, 1967, at the age of 91.
filed by C.N.