Aline Kominsky-Crumb is the mother of women's autobiographical comics. Born Aline Goldsmith in 1948, Aline's upbringing in a dysfunctional Jewish family on Long Island, New York significantly influenced the subject and tone of her work. Aline moved to New York City to study art at Cooper Union and finished her degree at the University of Arizona in 1971. Having relocated to the west coast during a brief marriage to Howard Kominsky (whose name she retained after the divorce), Aline became connected to underground comix artists Kim Deitch and Spain Rodriguez, which brought her to the center of the counterculture movement: San Francisco. There, she became part of a community of cartoonists including Robert Crumb, whom she married in 1978.
Aline's earliest comics focus on Goldie, a caricatured version of Aline that exaggerated every aspect of a post-pubescent, self-conscious, and over-sexed young woman. Aline's first story, "Goldie: A Neurotic Woman," appeared in 1972 in the premier issue of Wimmen's Comix, the first series to be entirely produced by women. She contributed to the series until 1975, when differences in feminist practice motivated her to create a new title, Twisted Sisters, with Diane Noomin.
Kominsky-Crumb also contributed to Arcade, Weirdo, and other early counterculture comics of the time, and she went on to collaborate with her husband Robert Crumb on a series titled Dirty Laundry. Her work was groundbreaking; it opened the gates for women to be gritty, sexual, crude, and downright disgusting at times, but above all: honest, brave, and real.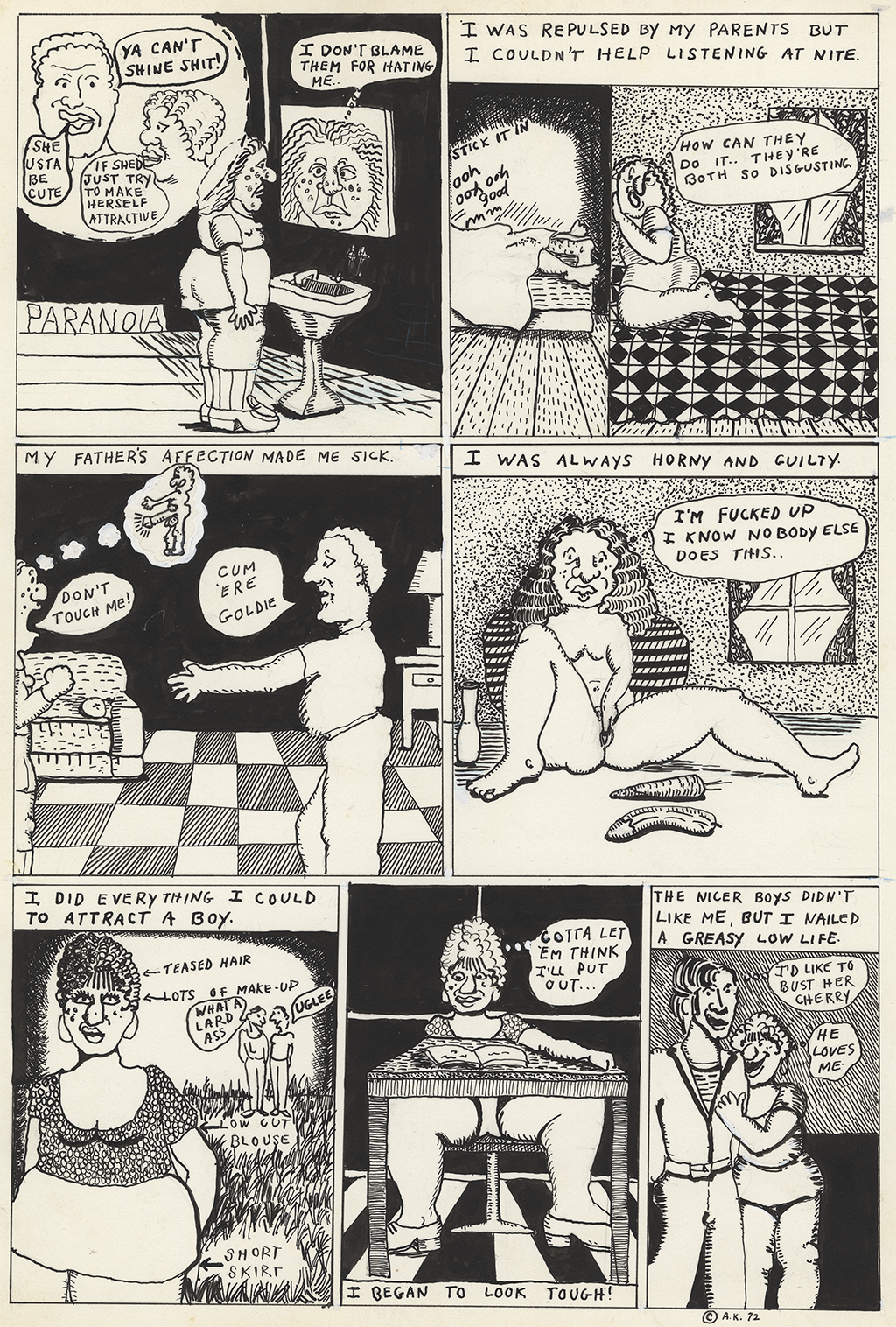 Aline Kominsky-Crumb
Goldie: A Neurotic Woman
1972
Ink on paper
Erwin and Alfred Bergdoll Collection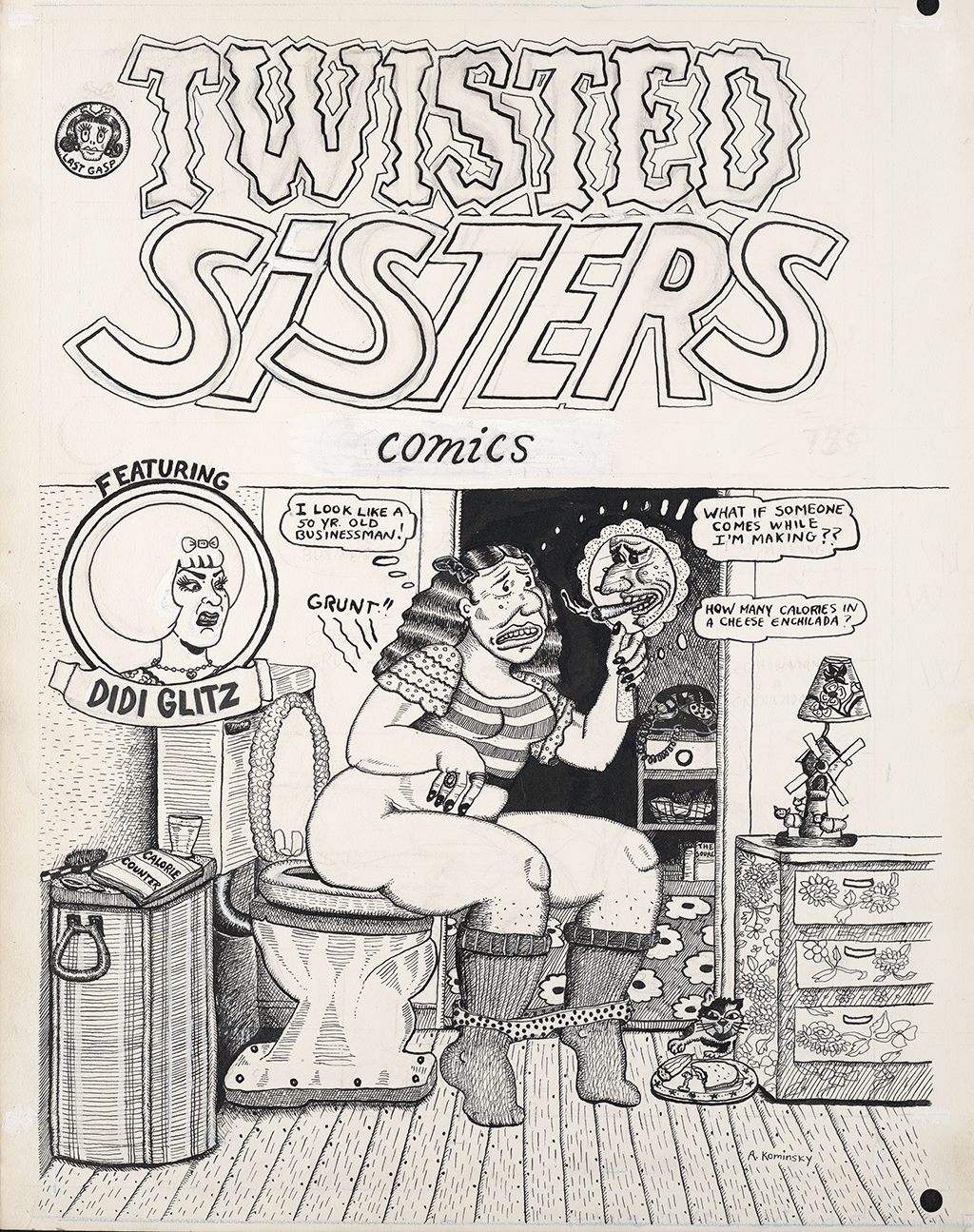 Aline Kominsky-Crumb
Twisted Sisters
June 1976
Ink and whiteout on paper
Erwin and Alfred Bergdoll Collection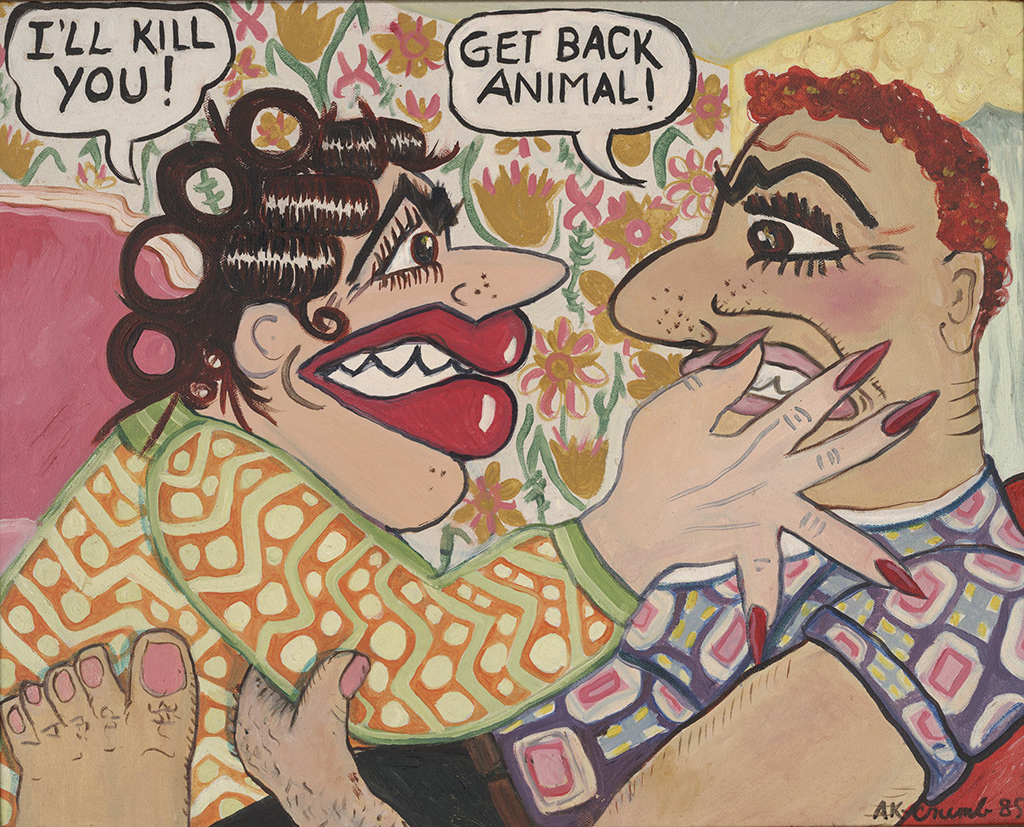 Aline Kominsky-Crumb
[I'll Kill You]
1985
Acrylic on canvas
Erwin and Alfred Bergdoll Collection